Saturday
July 1
2017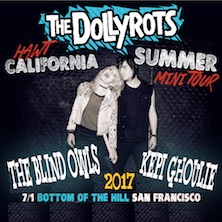 8:30PM

doors -- music at 9:30PM

•••

ALL AGES




$

12


The Dollyrots
www.thedollyrots.com/


Rock/Punk/Alternative


The Blind Owls
www.facebook.com/TheBlindOwls/


Rock n' Roll


Kepi Ghoulie
kepiland.com


Pop punk
---

The Dollyrots
Kelly Ogden (Vox, Bass)
Luis Cabezas (Guitar, Vox)
-from Los Angeles, CA
-Kelly Ogden has always wanted to be a mermaid.

The bassist/vocalist for the Dollyrots clarifies: "Growing up in Florida, we were always at the beach, or swimming in a pool or a lake or a spring. I've just always felt at home in the water."

Whiplash Splash is the Dollyrots' sixth studio LP, and their first since 2013's Barefoot and Pregnant. And after touring with their rat Snuffy, their dog Quito, and their son River, it also marks the addition of their new daughter Daisy to their entourage. "We only had three months to write, record, and finish the album between the launch of our PledgeMusic campaign and the birth of our daughter," says guitarist Luis Cabezas. "Parenthood doesn't afford us the time to overthink things anymore. We tracked everything at home and went with our first instincts when it came to the music and lyrics."

The result is an album that's focused, sharp, and completely fan-funded. During their 16-year career, the Dollyrots have released albums on labels like Blackheart and Lookout!, but have successfully crowdfunded their last few releases thanks to their loyal (and generous) fans. Whiplash Splash is the band's fifth collaboration with producer John Fields, known for his work with All Time Low, Switchfoot, Andrew W.K., and so many others.





The Blind Owls
Dylan Romel- Drums
Jesse De Los Santos- Guitar
Carlos Garcia- Bass
Joshua De Leon- Guitar
-from Corpus Christi, TX
-The Blind Owls are a 4-piece Rock n' Roll band from Corpus Christi, Texas formed in 2012.
After nearly three years spent of constant performances around Texas and festivals around the country ferociously banging out an authentic Rock n' Roll repertoire with passion and fury each performance, 2015 saw the release of their highly anticipated 8 song debut EP 'The Blind Owls Say Goodbye.' In 2016 The Blind Owls released their 14 song debut album 'All Day and Night.'




Kepi Ghoulie
-from Sacramento, CA


-Kepi was the bassist and vocalist for Sacramento, California based pop-punk band the Groovie Ghoulies. He has been recording and touring both with a full band and as an acoustic soloist since the Ghoulies' break-up in mid 2007.