Friday
July 7
2017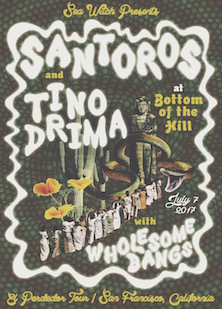 8:30PM

doors -- music at 10:00PM

•••

21 AND OVER




$

8

in advance

/ $10

at the door
Sea Witch presents...
Santoros
www.lossantoros.com/


folk garage psychedelic rock surf


Tino Drima


www.facebook.com/tinodrima/


doo-wop garage psych

----

Friendless Summer

is off this bill
Wholesome Bangs
www.facebook.com/WholesomeBangs/


Indie rock



---

Santoros
Tony Jimenez: rhythm guitar, Gio Jimenez: Bass, Diego Prieto: keys, Marco Rocha: drums, Adolfo Canales: lead guitar, Jossef Virgen: vocals, Carlos Precichi: rhythm guitar and vocals
-from Mexico/Los Angeles, CA
-Based out of Los Angeles, California- Santoros is a groovy, garage-surf band formed in 2010 with Adolfo Canales (guitar), Carlos Precichi (guitar/vocals), Marco Rocha (drums), Diego Prieto (organ/keys) and Jossef Virgen (vocals). Santoros began in Adolfo's garage as jam sessions and soon after evolved into this brotherhood of passionate musicians creating music for the world, playing shows all over L.A along side other great bands like L.A Witch, Corners, Thee Commons, The Frights, The Growlers and many more, and have toured nationally. The bond they have with each other has made their music united, unique, and their energy infectious.

They have released three albums, Ancestros in 2012 recorded by Orlando Torres , Animals in 2014 recorded and released by Lolipop Records and El Perdedor in 2016 recorded by Joel Jerome and released by Lolipop and Burger Records.




Tino Drima
Gregory DiMartino, Ryann Gonsalves, Rob Mills,
Mackenzie Bunch, Grayson Converse, Scott Huerta
-from San Francisco, CA
-Tino Drima is a cauldron of then, now, and what will be. There is grease, there is friction, there is high harmony, there are ripping beats, there are charmed humans parading onstage and in studio. There is a radio playing on the other side of the wall and Old Man Cooper has not left his apartment in over a month and it stinks. But this music does not, this music exudes class and classicism, and lifts you up and places you smack dab in the middle of newly decorated living room filled with Hummel figurines, a comfy couch, and the sound of dishes clinking and clanking in the kitchen sink just past the dining room. You want to stay, and you want to listen to the music, and you want to hang out, and you will stay up for as long as it lasts and maybe even longer, because it sounds so good and it smells like bacon over in that room now. Like most of us, they are fascinated by metadata. That is why the music they perform has been called Psyche Doo-Wop Hell Croon. It is a genre they respect, that they have pioneered, that will only get bigger and broader with time. Sort of like people.Influences? Can, their Uncle Charlie, R.E.O. Speedwagon, Sonny Rollins, Italian prog rockers Premiata Forneria Marconi, and early '60s Brit girl duo the Caravelles.
Tino Drima's latest EP 'Smoking' is utterly fascinating, evokes all that is sensual about contemporary popular music, and will make you tingle with excitement. Or, in some cases, tinkle.



Wholesome Bangs
Nina Gates: Vocals/Drums, Josh Webber: Vocals/Bass/Drums, Tom Hopkins: Guitar/Drums,
Ben Parkhurst: Drums/Bass
-from San Francisco, CA
-It were in the grungy heart of The Tenderloin, among the weary and
wild. Whispers of an idyllic noise were rampant. Josh battles giant
spiders. Nina keeps the secrets. Ben tames wild storms. Tom is on
vacation. Bear witness to the next big bang.
Wholesome Bangs is a Lo-Fi indie/rock 4-piece group from San Francisco.
Influenced by raw rock and roll with a mission to create music that bangs.