Sunday
July 9
2017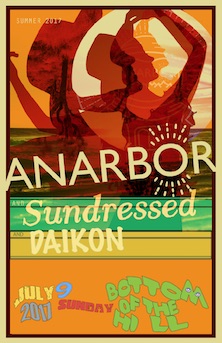 8:30PM

doors -- music at 9:00PM

•••

ALL AGES




$

12


Anarbor
www.facebook.com/Anarbor/


Rock


Sundressed
www.facebook.com/sundressed/


folk pop punk emo indie rock


Daikon
www.facebook.com/DaikonBand/


indie-pop



---

Anarbor
Slade Echeverria - Vocals/Bass
Adam Juwig - Guitar/Vocals
Danny Stravers - Guitar/Vocals
-from Phoenix, AZ
-Phoenix, Arizona based alternative rock band, Anarbor was formed in 2003 while the members were still in junior school. After signing with Hopeless Records in 2008, Anarbor found mainstream successes providing theme's for Cartoon Network's "Scooby Doo! The Mystery Begins", ESPN's SportsCenter, Good Day L.A. and MLB Network Countdown. Along with relentless touring in the United States, Anarbor have appeared in Japan, United Kingdom, Canada, and Australia. While partnering with Hopeless Records, Anarbor released two E.P.'s and two full length studio albums.

More recently, Anarbor independently released their eponymous third studio album entitled, "Anarbor" in June of 2016. The album was self-funded and produced by long-time collaborator Matt Keller (Lydia, The Maine, The Summer Set, Katastro). Anarbor is comprised of lead vocalist and bassist Slade Echeverria, guitarist Adam Juwig and guitarist Danny Stravers.





Sundressed
Trevor, Garrett, Forest and friends
-from Tempe, AZ
-Life is all about transitions, the desire to get from who you are to who you want to be. Just like the people who comprise them, every band is on a journey to find an identity and become comfortable in it's own skin. For Phoenix, Arizona indie punks, Sundressed, these changes are found. Sundressed walk a line between youthful enthusiasm and adult thoughtfulness, energetic punk and quirky indie, harrowing desperation and uplifting hopefulness. The band have embraced these dynamics, found solace in transition, and are well on their way to becoming who they want to be.





Daikon
Eric Shapiro- Guitar/Vocals
Jerry Andersen- Drums
Shaye Farwell- Bass/Vocals
-from San Francisco, CA


--Daikon's history has followed a trajectory that is relatable to all young musicians. From an optimistic flyer posted to try and start a band, to numerous local shows, to losing a drummer, to finding a new drummer, to playing more and more shows, and recording an album. The band lineup has changed a few times, each time pushing the band farther along toward it's current form: a band of friends, each with different musical backgrounds and histories, playing killer indie rock with some punk undertones. It's got California coast written all over it, with a sound that was raised in environments just like their listeners. Relatable and fun, catchy and exciting, Daikon is a stunning example of the San Francisco everyman's rock.