Tuesday
July 11
2017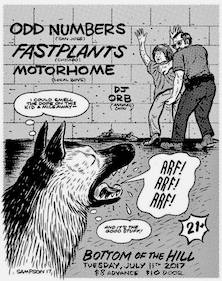 8:30PM

doors -- music at 9:00PM

•••

21 AND OVER




$

8

in advance

/ $10

at the door
The Odd Numbers
www.facebook.com/The-Odd-Numbers-442374139205098/


pop punk rhythm and blues


Fastplants
www.facebook.com/fastplantsband/


skate punk garage


Motorhome
www.facebook.com/motorhomerocks/


loud rock



---

The Odd Numbers
Dave Baisa, Dave Miller, Dave Conrad
-from San Jose CA


-The Odd Numbers are a pop punk rhythm and blues band. The group's sound is an attractive mix of pop and punk — which would never be confused with Green Day-style "pop-punk" — with bits of David Bowie, the Kinks, the Who and other mod-rock touches thrown into the mix..






Fastplants
Guitar/vocals: Matt Anzelone.
Bass/Joel Morgan.
Guitar/vocals: Abe Linders.
Drums/vocals: Marc Harman.
-from Waukegan, IL
-Do you like skateboarding, fast music, and direct answers? So do we! We are FASTPLANTS.
Don't talk about shit. Do shit.




Motorhome
Matt Derrick, vocals and electric tambourine. Rob Vastano, left-handed guitars. Mike Baptista, right-handed guitars. Bryan Coons, bass and backing vocals. Tim Curry, drums and backing vocals.
-from San Francisco, CA


-Motorhome fired up their loud brand of rock in the fall of 2002, in San Francisco. Formed by guitarists Mike Baptista and Rob Vastano after a brief tenure in All About Evil, they were hungry to start their own thing. Mike and Rob grew up together listening to the likes of: AC/DC, Deep Purple, Black Sabbath, Blue Oyster Cult, MC5, Motorhead, Thin Lizzy, ZZ Top, G.B.H., Verbal Abuse, Black Flag ,Venom, The Offenders, and the list goes on... Wanting to fuse these different styles together, the result is the monster sounds of yesteryear, guaranteed to scare the living daylights out of mall punks, and make aging hipsters put down their drink and take notice. In essence, their desired crowd is not unlike themselves, being low-brow people who want to see a damn fine rock band that plays loud, fast and powerful. This mentality has built Motorhome a loyal fan base wherever they go. Drummer Tim Curry has been in more than his fair share of bands since the mid 80's, most notably Discontent, and Fine to Drive. Tim also came over from the All About Evil line-up, being an original member, he decided to join forces with Mike and Rob after they left. Known to some as "The hardest hitting drummer in the business", Tim also manages to add some tasteful backing vocals. Horrible, and huge bassist Bryan Coons holds down the rhythm section with his thunder. His bass influences range from Duck Dunn, to John Entwistle, and Steve Harris. Bryan contributes to the backing vocals as well as some lead vocals in their live set. Front man, Matt D. gives it his all, maybe it's doing push-ups or hanging off the ceiling, whatever it takes, he'll have the crowd in the palm of his hand. Be it his witty lyrics(he was a spelling bee champ after all), and a healthy dose of sarcasm, he's what front men are all about. It's also worth mentioning that he's a world renown Karaoke master, Cellist, and accomplished guitarist himself. Ladies take note, his shirt is usually off by the second song...