Thursday
July 13
2017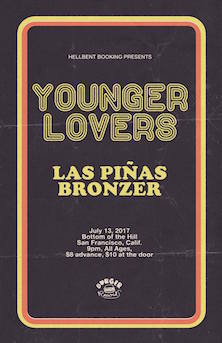 8:30PM

doors -- music at 9:00PM

•••

ALL AGES




$

8

in advance

/ $10

at the door


Hellbent

presents...


The Younger Lovers
~Brontez of

Gravy Train!!!!


www.facebook.com/The-Younger-Lovers-112951778790417/


garage-pop-and rock n' roll jamz - disco punk


Las Piñas
www.facebook.com/laspinasband/


alternative surf garage rock


Bronzer
bronzerband.bandcamp.com/


blue collar-dingus-punk



---

The Younger Lovers
Brontez Purnell, Rich Guttierrez,Ezra Rabin
-From Oakland, CA
-The Younger Lovers started in 1994 when 12-year-old Brontez and two of his girl cousins, T'kwa and Bean, started ditching choir practice to play in a band. The transition from gospel to secular alternative radio was difficult. Three years into the project, T'kwa and Bean split because they started getting laid. Young Brontez dwiddled away, caught punk germs, nd ended up creating up to 13 albums worth of unreleased solo material. He moved to California in the wee hours of the decade, spent time in other bands (Gravy Train!!!, Panty Raid, The Social Lies, The Manhandlers, Author, Actor and Writer) and finally released the Younger Lover's "newest" and "rawest" works- The "Newest Romantic LP" and the "California Soul EP."

The Younger Lovers are back with their fourth LP "Young Brothers". Recorded at Tiny Telephone Studios in San Francisco, this time with Purnell's long time backing band Rich Guttierrez and Ezra Rabin. Following up 2013's "Sugar In My Pocket" which SPIN named "must hear and crush worthy" the sound has gone from raw lo-fi bedroom masterpieces, to a fuller, explosive pop punk band without losing it's gritty charm. Heavily influenced by Riot Grrl and Bay Area DIY punk, fans of Bikini Kill, Crimpshrine and TV On The Radio will all rejoice. "





Las Piñas
Sofía Cardich - guitarra
Antonela Perigo - batería
-from La Plata, Argentina


-Playa, surf, garage y amigos. The band took form in Sofia's basement as a means of escaping the sweltering warmth of a particularly brutal summer. Naturally, this retreat from the heat elicited the channeling forth of a sound melding sun-soaked surf melodies with savory-sweet pop-sensibilities and tangy poolside summer twang evolving both into their upbeat live presentation and recording style.






Bronzer
Graham, Wyatt, Gil
-from San Francisco, CA


-FUZZGAZE/PUNK 3 BROTHERS AND THEIR FRENCH-ITALIAN COUSIN.