Tuesday
July 18
2017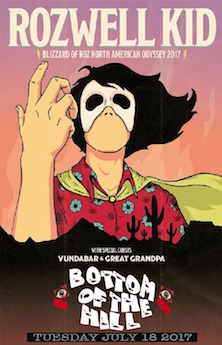 8:00PM

doors -- music at 8:30PM

•••

ALL AGES




$

12

in advance

/ $14

at the door
Rozwell Kid
rozwellkid.com/


indie rock noise pop power pop


Vundabar
www.facebook.com/Vundabar/


dance rock country indie surf


Great Grandpa
www.facebook.com/greatgrandpaband/


grunge indie rock noise pop
---

Rozwell Kid
Jordan Hudkins: Vocals / Guitar
Devin Donnelly: Bass / Vocals
Sean Hallock: Drums / Vocals
-from West Virginia
-Fronted by the affable, spectacled Jordan Hudkins, Rozwell Kid write massive, gritty, excitable power-punk songs; they channel Blue Album guitar grandiosity and eternally-hummable melodies conveyed in 'ooo''s, the likes of which would make Rivers Cuomo weak in his problematic knees. But when it came to writing Rozwell Kid's new album, Precious Art, Jordan Hudkins found himself in the strange place of wondering who and what Rozwell Kid actually was. After more than two years on the road, the band – completed by guitarist Adam Meisterhans, bassist/vocalist Devin Donnelly and drummer Sean Hallock – hadn't quite hit a dead end, but they needed to regroup, rethink and refind their identity.
All of those questions are thankfully answered by the twelve songs that make up Precious Art. It is a quintessential Rozwell Kid album and something entirely new at the same time. It's teeming with understated nostalgia, but doesn't get too lost in the past. Rather, it recalibrates the past, revisiting it with the added wisdom that comes with age. It's quirky in the way that Rozwell Kid songs have always been quirky, but more than any other record the band has made, it sees Hudkins diving deep into the heart of human existence, telling universal truths based on his own personal memories and unexamined experiences.
The result is an album that expands the strain of weird whimsy that's always run through the band's songs, but on which it's increasingly difficult to ignore the more serious side of things. Nothing illustrates that more than the song "Booger." Yes, it's an amusing tale that revolves around the green stuff that comes out of your nose being smeared across the screen of your smartphone, but it's also so much more than that – it's a tender, touching and even tragic ode to lost love, that is filled with an audibly sad beauty.

"We're pretty fun guys," he says, "and I'm a huge fan of comedy and feeling good and happiness, but at the same time, that's not the day-to-day default emotion for, well, pretty much everyone. So I try not to take things too seriously, but I also try to keep it rooted in some sort of reality. Yeah, it's called "Booger" and that's the central image, but at the same time I wanted it to also play as sincere because at the end of the day, it's a love song." Referencing something so uninhibited isn't meant to be interpreted as creepy or misguided, though. It's human and natural and reflexive; we just don't talk about it.





Vundabar


-from Boston, MA




-There's somewhat of a paradox inherent in Vundabar's songwriting - a conflicting sense of nostalgia contrasted with the realization that they couldn't sound more current. The music they make feels like something that should have been heard a long time ago, while simultaneously continuing to forge ahead sonically. Vundabar's high energy live show is the stand out quality of this band and is an art they've undoubtedly perfected by touring non-stop around the country. Vundabar's shows never fail to be captivating, complete with infectious jams, guitar moves galore, intricate drum work, and humorous stage banter to top it all off, the band has become known for putting on an entertaining show.-






Great Grandpa
-pat++alex++carrie++cam++dylan
=from Seattle, WA
-Great Grandpa began in Seattle in 2014 when guitarist & vocalist Patrick Goodwin recruited bassist Carrie Miller, drummer Cam LaFlam, and vocalist Alex Menne to form a humble rock band. Inspired by the pop-sensible alternative rock of the 90's, and offset by a mutual love for noise and math rock, the group set forth to write and record their first EP.
During recording, guitarist Dylan Hanwright joined the group, solidifying the lineup. Great Grandpa began performing in the Seattle area in late 2014, frequenting the city's DIY venues. In March of 2015, their debut EP Can Opener was released on Broken World Media. The EP was met with considerable praise, and has been described as "warm, slightly off-kilter grunge pop", and "knotty, twisted, and warm rock music that's as melodically satisfying as it is, at times, confounding".
Great Grandpa began writing their debut LP soon after, and found themselves touring the western US and performing extensively in the Seattle area. Written in 2015 and 2016, Great Grandpa's debut LP Plastic Cough continues to explore the sonic territory visited in Can Opener, exhibiting infectious melodies across a range of backdrops, from quiet bedroom-pop to explosive, anthemic rock. Plastic Cough is out July 7th via Double Double Whammy.






---