Wednesday
July 26
2017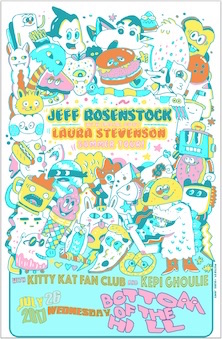 7:00PM

doors -- music at 8:00PM

•••

ALL AGES




$

15


Jeff Rosenstock
www.stitchedupheart.org/


Punk, songwriter


Laura Stevenson
www.laurastevenson.net/


Folk rock, indie rock


Kitty Kat Fan Club
www.facebook.com/kittykatfanclub/


Funky metal


Kepi Ghoulie
kepiland.com


Pop punk



---

Jeff Rosenstock


-from Long Island/Brooklyn, NY


-"If you're reading this, you probably know the legend of Jeff Rosenstock by now. The Arrogant Sons of Bitches had Long Island's attention, and then mutated into Bomb the Music Industry, a collection of musicians that were among the first to just give their music away, that spray painted t­shirts for fans, that did everything in a way that was financially ill­advised and built a cult unlike any other in the process. Sometimes their shows had a dozen musicians on stage, sometimes it was Jeff and an ipod. No matter what, there was always one thing that remained the same – this band had as much integrity as Fugazi with none of the pretension but with all the emotion but with a lot more fun and also I have to reiterate none of the pretension. To me it seems like Bomb was like Fugazi if the members of Fugazi had been willing to let down their guards and laugh at fart jokes. Again, this is meant as high praise. I really like Fugazi and am not trying to talk shit, it's just an apt metaphor.
The guy is a genius poet while simultaneously being the definition of a fucking goon from Long Island. There is nothing not to love. The album you are about to listen to, WORRY., only furthers and exceeds the myth of Jeff Rosenstock, he who is mythical for being the most normal dude from a boring place any of us have ever met; mythical for sticking to his guns when all logic points in the other direction; mythical for writing melodies that stick in our brains and lyrics that rip our guts out; mythical most of all for being not mythical at all. He's just Jeff. It's not that complicated. But in a world where everything is driven by branding and image and hidden agendas, being not that complicated makes him perhaps the most complicated artist I know." - Chris Gethard





Laura Stevenson


-from Long Island, NY


-For her first live record, Laura Stevenson opted not to record the most raucous show of her tour—an eight-week international one, at that—but a quiet night in Groningen, Netherlands instead. As she notes, about 40 people showed up, and Stevenson and her band were the only performers that night, but the band ran through its songs with a well-rehearsed urgency, including a cover of The Replacements classic "Alex Chilton," which The A.V. Club is premiering below.

The live record is available for free on Jeff Rosenstock's Quote Unquote Records as a pay-what-you-want download, and 100 percent of the profits raised from the sale of the live record will go directly to Planned Parenthood. Stevenson had this to say about the importance of Planned Parenthood, and why she decided to use her first live album as a means of raising money for such a vital organization.

This is the only official live recording of our band and we're so happy to be able to donate 100% of its sales to Planned Parenthood.

I was raised by two incredibly strong women who taught me from a very young age that I should never take my reproductive rights for granted; they warned that I should never get complacent, or feel at ease because those rights will always be in jeopardy in this country, and all over the world. Planned Parenthood is a vital resource for women's health and we are so so proud to stand with them and with all of their supporters. Let's do everything we can to keep this institution open and accessible.




Kitty Kat Fan Club
Casey, Justin, Brianda, Sim, Jonathan, Mike 1, Mike 2
-from San Jose, CA
-Dear Friends...
Kitty Kat Fan Club = a group of friends who love music




Kepi Ghoulie
-from Sacramento, CA


-Kepi was the bassist and vocalist for Sacramento, California based pop-punk band the Groovie Ghoulies. He has been recording and touring both with a full band and as an acoustic soloist since the Ghoulies' break-up in mid 2007.