Thursday
July 27
2017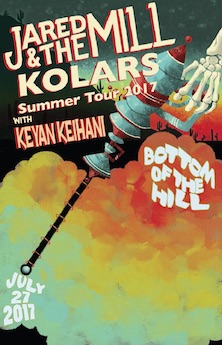 7:30PM

doors -- music at 8:00PM

•••

21 AND OVER




$

12

in advance

/ $15

at the door
Jared & The Mill


[co-headlining]


jaredandthemill.com/


Western Indie Rock


KOLARS
formerly,

He's My Brother, She's My Sister




[co-headlining]


kolarsband.com/


disco-roc

abilly, or "glam-a-billy"


Keyan Keihani
www.keyankeihani.com/music/


Country, alt-country, folk
---

Jared & The Mill
Jared Kolesar, Michael Carter, Larry Gast III, Chuck Morriss III, Josh Morin, Gabe Hall-Rodrigues
-from Phoenix, AZ
-Howdy, We are Jared & The Mill. All of us were born and raised in Phoenix, Arizona, and we still call it home today. When we first got started in the summer of 2011 we just wanted to play some music with our best buds, have a few shows, and have a good time. Jared and Michael had been buddies and playing music together since they were kids, and after they met up with another childhood duo, Josh Morin and Larry Gast III, after that they realized they needed a bass player, so along came Chuck Morris III. Some months later, Jared ran into Gabe Hall Rodrigues, a local accordion and keys player at a coffee shop. Gabe joined, and as it goes we were soon hammering along in the local scene, playing alongside the bands of new friends and old throughout Arizona. The wheels kept turning, and before we knew it we had over three years of touring under our boots; playing in the living rooms, dive bars, venues, theaters, music festivals, and even arenas of this big ol' country of our's alongside fellow upcoming bands, and with some of the biggest acts we had always looked up to. Being out there changed our lives, it changed how we thought about things and it changed how we wrote about things. Those miles molded our music and molded our souls and it made our bond even stronger. Life gives to you and it takes from you, and we have written about that give, and that take. We've written about getting older, about those friends and those loved ones and those things that never leave and about those that do; about those sweet things and those bitter things, and that struggle to keep the course as you try your best to carve yourself into what you hope is a good man. We have written about our desert home we so very often miss, and we've written about the stories of others we've heard along the way. Our music has been called, compared and regarded by a number of different names and genres, and we've been influenced and shaped by many different events and people, but more than anything, we'd like to think that some shred of the Southwest -- of our home -- can be found in the heart of our music.






KOLARS
formerly,

He's My Brother, She's My Sister


Rob Kolar
Lauren Brown
-from Los Angeles, CA & Boston, MA
-KOLARS is a band of two members.

Rob Kolar sings and strums his rollicking guitar, Lauren Brown uses her whole body as a percussive instrument.

KOLARS has created a sonic world that straddles self-described genres such as Desert Disco, R&Beyond, Space Blues, and Glam-a-billy . Rob produces, mixes, and writes the material. His studio experimentation is incorporated into the live show. Lauren has invented her own drumming style. She tap dances rhythms with her feet atop a bass drum while simultaneously playing a stand-up kit. She uses this dance to transform beats into natural extensions of her movement. The two perform with energy, sweat, and excitement, thrilling audiences with their unabashed exuberance.

As members of glam-folk band He's My Brother She's My Sister, Rob and Lauren toured the U.S. and Europe extensively and sold out venues in every major city across the states, playing Bonnaroo, Summerfest, Voodoo, Firefly, Secret Garden Party, and Austin City Limits, and performed on late night television (Craig Ferguson).

The band has taken their influences and experiences into a new futuristic realm with KOLARS.






Keyan Keihani


-from San Francisco, CA


-Keyan Keihani is a songwriter from the San Francisco Bay Area, CA. Keihani's music is based on a sparse Americana backdrop and a penchant for performing alone. The songs are honest and delivered without any gimmicks or frills.

His self-financed debut album, Eastbound, was released in 2013 and provided the foundation for hundreds of shows and supporting opportunities for Jamestown Revival, Sturgill Simpson, William Elliott Whitmore and Jason Eady, to name a few. It peaked at #6 on Amazon's Americana charts.

After a series of personal and emotional setbacks in 2014, Keihani felt emboldened to address topics of isolation, depression and crippling anxiety. The songs culminated into his follow-up release, Dark Saints, in 2015. Produced and engineered by Daniel Mendez, Dark Saints is presented as a stripped down collection of songs that are deceptively simple and haunting. No Depression referred to it as a "powerful record that is driven by Keihani's unique, no frills voice that is park country, part folk, and most of all, sincere."

In 2015-2016, Keihani provided support on several regional tours and was named a finalist for the Deli Magazine's "Emerging Roots Artist of the Year."

Keihani is represented by Head Above Water music publishing and licensing. Learn more at www.keyankeihani.com.