Wednesday
August 9
2017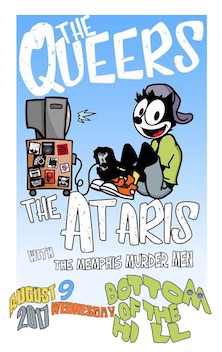 8:30PM

doors -- music at 9:00PM

•••

ALL AGES




$

15


The Queers
thequeersusaband.com/


pop punk


The Ataris
www.facebook.com/theataris/


punk-pop


The Memphis Murder Men
thememphismurdermen.net/


Rock N Roll
---

The Queers
Joe Queer - Guitar/Vocals, Dangerous Dave - Bass/Vocals, Lurch Nobody - Drums
-from Portsmouth, NH/Atlanta, GA
-We've been playing music and touring all over the world for almost 30 years now. We released a few records for Lookout! Records in the early 90s and then had a terrible stint with Hopeless in the late 90s. I don't think they wanna see us and we definitely don't wanna see them. Then we released one more record with Lookout! but afterwards switched to our favorite record label we've ever had, Asian Man Records. All this while touring a bunch. We'll see you soon, we're The Queers.





The Ataris
Kristopher Roe Bryan Nelson Thomas Holst Nick Turner
-from Anderson, IN
-Honest rock n' roll, played loud, recorded to analog tape. Founded in 1996.
Twenty years later still going strong, traveling the world doing what we love. On our own terms.
Download exclusive new music here on our Bandcamp page.
Add our Facebook, Twitter and Instagram for tour dates and other updates!




The Memphis Murder Men
Screamin E-Vocals
The Lith-Lead Guitar
Colonel Rev. Rhett-Rhythm Guitar
Sir Hans Sir Hans-Bass
Amazing Larry-Drums
Danny Valentino-the sixth Murder Man/lead guitar/drums
-from Oakland, Ca/Pittsburgh, PA
-What do you call 50's rock 'n' roll's bastard child? - The World's 2nd Greatest Rock n Roll Band, THE MEMPHIS MURDER MEN of course! Originally hailing from Pittsburgh, PA, the band evolved from the Steel City's first true horror-punk outfit - The Brain Invaders - and now call Oakland, CA their home. These guys have fired up the stage multiple times with The Misfits, Tiger Army, CJ Ramone, The Queers, The Swingin' Utters, Agent Orange,The Murder Junkies, The Supersuckers, The Dickies, The Quakes, The Guana Batz, Frenzy, The Meteors, Nekromantix and just about every legendary psychobilly band there is. The group completely embodies the rock 'n' roll that gave birth to every punk, rockabilly, and psychobilly band out there and do it without regrets or fear of what "the scene" might think. The band is also one of the biggest supports and purveyors of THE RAMONES, The World's GREATEST Rock n Roll Band. The Memphis Murder Men tirelessly spread the rock n roll gospel and with every show they play, the congregation grows. The Memphis Murder Men are putting the nail in the coffin of bad rock 'n' roll and cranking out loud and proud music the way the greats did!