Thursday
August 10
2017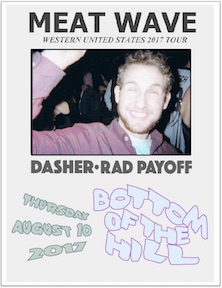 8:30PM

doors -- music at 9:30PM

•••

ALL AGES




$

12

in advance

/ $14

at the door
Meat Wave
www.facebook.com/MeatWaveChicago


post punk


Dasher
www.facebook.com/dasheratl/


noise post-punk


Rad Payoff


from Chicago, Illinois


www.facebook.com/Rad-Payoff-163438103686361/


garage punk stoner rock
---

Meat Wave
Chris Sutter
Joe Gac
Ryan Wizniak
-from Chicago, IL
-In late 2014, Meat Waves 24-year-old frontman Chris Sutter found himself facing the end of the relationship he had been in since he was 12 years old. "When youre in something like that for so long, it doesnt shield you from the world, but it softens your reality," he explains. "A long relationship like that gives you confidence." He likens the experience of being single for the first time in his adult life to being an Amish kid on Rumspringa. "I was just going nuts, making all the mistakes that you could make. It made for a really whack, fucked up time-very confused, always unsure-and that led to a bunch of shit," Sutter laughs grimly.

The Chicago punks had already made their second album Delusion Moon, a hardcore blast that castigated the weak excuses we ply for poor behaviour. That would come out in 2015. In the interim, Sutter started keeping a notebook to try and document the profound mood swings and torrents of anxiety that he was experiencing in the wake of the split, writing stream-of-consciousness poems about his feelings from day to day, city to city. One term kept coming out: The Incessant. The Incessant is a bracing, emotional punk record that confronts taking responsibility for your actions with dark humour and self-deprecation, drawing influence from acts like The Breeders, Hot Snakes, Drive Like Jehu, and, yes, Fiona Apple, as much as Franz Kafkas Metamorphosis, Jeffrey Eugenides Middlesex and the poems of Emily Dickinson and Sutters friend Hannah Gamble. On that literary tip, Sutter majored in journalism, and says his studies applied here more than ever. "I had this amazing professor whose whole thing was-and its very simple, but it stuck with me-what were doing is trying to uncover the truth, or truths. I applied that exactly to what was going on with me, because I tended to run away from the truth or ignore it." Bassist Joe Gac produced Meat Waves previous records, but for The Incessant, the three-piece achieved their dream of working with legendary Chicago engineer Steve Albini, tracking and mixing the album in just four days. "Between his music and the things hes done, bands hes recorded, hes the real deal," says Sutter. "I dont know if Joe would admit this, but the way he works and records, hes like a student of Albini. It felt like the next step for us, and it was a good, quick, raw experience." Albinis famed dynamic range is best heard in "Killing The Incessant", the records epic, raging crescendo of a closing song. "Incessant / Tried to see it / Ended eaten / Though now fear couldnt blanket me / No hand / Discriminates the other / Heres to killing / The Incessant / I dont need it / Heres to killing / The Incessant is defeated", Sutter rails in stark, stabbing fragments. A tumult of noise churns, before giving way to a peaceful fingerpicked acoustic pattern.

"Towards the end of writing this album, I began to wonder exactly what The Incessant sounded like," says Sutter. "Like, can I soundtrack that feeling? So thats how the crescendo came about. All that fucking tension. It was about shedding the ego. I think as humans we have more control than maybe we choose to believe sometimes. So this is trying to put it all at ease. Reject the fear and shame and the things that arent relative to my betterment and wellbeing. The acoustic ditty at the end is the sigh of relief. And a moving-forward of sorts."




Dasher
Kylee Kimbrough drums vox
Gary Magilla bass
Steve Garcia guitar
-from Atlanta, GA


-Atlanta punks Dasher signed to the Bloomington, Indiana label Jagjaguwar in 2014. Then, shortly after recording their debut album, the band broke up. Frontwoman and drummer Kylee Kimbrough moved to Bloomington, rebuilt Dasher with a brand new lineup, and started working on another album, and the band's first release for Jagjaguwar is finally here. "We Know So," a rerecording of their 2013 track of the same name, is an absolute crusher, and you can hear it below.






Rad Payoff
Jason/Jonathan/Michael/Ryan
-from Chicago, IL


-So loud, it hurts your feelings.