Sunday
August 13
2017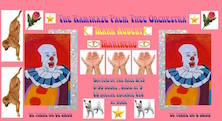 8:30PM

doors -- music at 9:00PM

•••

ALL AGES




$

8

in advance

/ $10

at the door
Kamikaze Palm Tree
kamikazepalmtree.bandcamp.com/


Noise/ Surf/ Psych Rock


Mark Aubert
http://markaubert.com/


experimental lo-fi


Marinero
www.maringuero.com/


lo-fi no-fi
---

Kamikaze Palm Tree
Cole Berliner and Dylan Hadley
-from San Francisco, CA


-Kamikaze Palm Tree is an experimental rock duo originating in San Francisco, California. They explore many different musical styles and have sounds anywhere from slow psychedelic noise, surf rock, to loud embracive rock. Kamikaze's high energy music lends the ability to have bombastic and theatrical performances, involving wearing masks and audience participation.






Mark Aubert


-from Mt.Tamalpais, CA




-Instrumental Hip Hop






Marinero
Jess Sylvester
-from Marin, CA
- Marinero is the solo guise of Jess Sylvester, a San Francisco native. Drawing from life in Califas as well as time spent in Guadalajara, his songs inhabit several times and places at once, be it the esquinas of lowrider-era Mission Street, the sepia-toned Jalisco villas of his abuelas, or the eternal ever-reaching California coast. Rooted but always musing on what came before and what could have come to be, Marinero's music floats between the familiar and the fantastic, like a half-remembered dream of Don Quijote.

Sylvester's other current projects also lie in this threshold, from the Pan-American digital pop duo Francisco y Madero to the lost-in-time no-fi Nuggets punk of Violent Change. Marinero brings it all together -- sampled breaks, hectic live percussion, harmonized vocals, fuzz guitar, maracas, flutes, Omnichords and laptops can all be summoned to bring forth the vibe by any means necessary.