Thursday
August 17
2017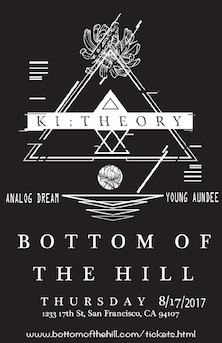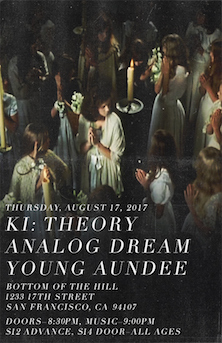 8:30PM

doors -- music at 9:00PM

•••

ALL AGES




$

12

in advance

/ $14

at the door
Ki: Theory
kitheory.com/


dark electronic rock


Analog Dream
www.analogdreammusic.com/


Indie Electronic


Young Aundee
www.facebook.com/YoungAundee/


Electronic, Pop, Trip Hop, R&B
---

Ki: Theory
Joel Burleson
-from Richmond, VA
-Ki:Theory is American recording artist and producer Joel Burleson. He has spent the span of his career crafting his own style of dark electronic rock music, landing him on blockbuster TV shows and movies such as Ghost In The Shell, Brick Mansions, CSI, and The Following.

Ki:Theory's latest full-length album, Silence, takes his cinematic approach further, showcasing his dexterity as an arranger and vocalist with haunting re-imaginations of "Enjoy The Silence" and "Walkin' After Midnight." Burleson's own songwriting holds up remarkably well against the two iconic tracks, creating a cohesive album highlighted by "If You Don't Care / Fake It" and "Bringing Me Down" featuring Ruelle.

Silence marks the 5th LP of a prolific recording career that includes multiple iTunes Electronic and Alternative chart #1s and commissioned remixes for Daft Punk, ODESZA, Cypress Hill, Rob Zombie and Queens Of The Stone Age, among others. Not one to rest on the strength of his studio output, Ki:Theory's electrifying live show has been recruited by the likes of Purity Ring, Phantogram, Passion Pit, DJ Shadow, Sparta, and Baths for tour support.




Analog Dream
Vocals, Guitar, & Synth / Jorge Sandoval
Lead Guitar & Synth / Rich Cannon
-from San Francisco, CA


-Based out of San Francisco, Analog Dream is an indie-electronic group formed at the end of 2012. We released our debut 5 song EP in November of 2015. The single "Lion's Share" has been played several times on CBS Radio Live105, featured on Tricycle Records' comp., and got some press on a few local blogs. We've played shows along the West Coast from Seattle to LA. Check us out at city near you soon!






Young Aundee
Andrew James Southard
-from Sacramento, CA
-Young Aundee is the moniker of one Andrew James Southard, an eclectic and unpredictable artist from Northern California. With an evocative, melancholic lyrical style and stage presence reminiscent of European pop icons, the likes of Karin Dreijer Andersson and Dave Gahan,Southard has been described as a "bantam and lithe character " whose remarkable voice manages to combine stark vulnerability with intense power. Layered over meticulously chopped beats, warbling synths and haunting vocal samples, Young Aundee's music is a nightmare pop landscape full of aimless souls, bankrupt lives, and crumbling nations in a world on the brink.

His energy is infectious; it colors his presence as a charismatic entertainer and tireless performer. In the last year Young Aundee has performed with nationally acclaimed acts: Clark, Shigeto, Lorn, oOoOO, Black Moth Super Rainbow, Eprom, Sister Crayon and Mophono.

Growing up in a sheltered fundamentalist household pushed Young Aundee to rebel and withdraw into a diverse mixture of electronic, dub, reggae, and punk rock music that led to his running away from home at the age of 15. Following the estrangement from his family, Young Aundee wrote and recorded three full length albums with his first band while still in his teens. The demise of that band found Aundee setting aside the guitar for five years and dedicating himself to sound experimentation, audio engineering and production, paving the way for his sonic exploits today.