Thursday
August 24
2017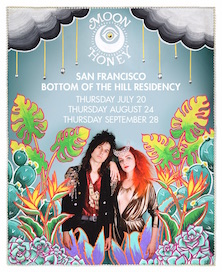 8:30PM

doors -- music at 9:30PM

•••

ALL AGES




$

12


----

The Prids

had to cancel due to an emergency
Moon Honey
moonhoneyband.com/


alternative progressive psychedelic rock


Mayya & The Revolutionary Hell Yeah!
mayya.bandcamp.com/


funky rap indie



---


Moon Honey
Jess Elaine Ramsey (vocals)
Andrew Martin (guitar)
Logan Baudean (drums)
-from Los Angeles, CA
-Whirlwind virtuosity, extremes of delicacy and impact, melodies that leap all over the place, suite-like structures, cryptic lyrics based on literary conceits — all the hallmarks of progressive rock are robustly in place on "Hand-Painted Dream Photographs."
—New York Times

Jessica Ramsey has one of those voices. I can see a cult forming around this band. Maybe there already is a cult in Baton Rouge, I need to get down there and join in. They're all dipping cotton candy in peyote. "The Cotton Candy Cult".
—NPR All Songs Considered




Mayya & The Revolutionary Hell Yeah!
Spencer Owings on lead guitar, Sam Jones on drums, Evan Anderson on bass, Alex Pollak- percussion/good vibes, n Mayya on lead vox/rhythm guitar
-from San Francisco, CA


-Mayya moved with her family from St.Petersburg, Russia to San Francisco around the age of 2, and has been livin in the same apartment in the Tenderloin since. Growing up in this environment has shaped her world view and influenced her songwriting. But she is not always cooped up in the TL... Goin' on adventures with friends into nature n whatnot, has also been of help in many ways.. such as in the formation of "Lands End" (last song off debut album Tea & Chocolate), written from the perspective of being a homeless person who lives in Lands End. Though there are many things one can be saddened by, Mayya generally maintains a positive outlook on life and tries to be as understanding of others' situations as possible.