Sunday
August 27
2017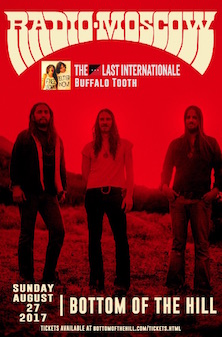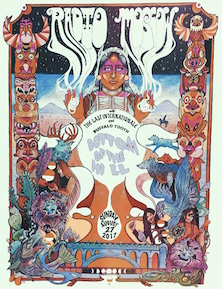 8:30PM

doors -- music at 9:00PM

•••

21 AND OVER




$15


Radio Moscow
radiomoscow.net/


Psychedelic rock, Blues rock, Garage rock, Hard rock, Acid rock


The Last Internationale
www.facebook.com/thelastinternationale/


folk blues punk rock


Buffalo Tooth
www.facebook.com/buffalotooth/


blues garbage punk



----

DJ Rob Metal

is off the bill

---

Radio Moscow
Paul Marrone – Drums,
Anthony Meier – Bass,
Parker Griggs – Guitar/Vocals
-from The Land of 1000 Dances
-Since 2007, Radio Moscow has steadily released LPs that confirm their commitment to the concept of the full-throttle power trio. Though by no means devoid of nuance and detail, the first thing one notices while standing in front of the band as they begin to unleash their stage show, is the feeling of being blown back by a whirlwind of energy and power, concocted by three guys locked in a groove.

Formed by Parker Griggs in Ames, Iowa, the band has been based in San Diego county, California, for several years now. Parker is joined by Paul Marrone on drums and bassist Anthony Meier. Since 2007, Radio Moscow has released four studio albums, Radio Moscow (produced by Dan Auerbach, who introduced the band to Alive Natural Sound records, the label that has released ever record up until now), Brain Cycles, The Great Escape of Leslie Magnafuzz, and Magical Dirt. Alive also released the early, garage demos collection 3 and 3 Quarters, and the double-live gatefold, Live in California, which New York Music Daily cited as the Best Heavy Psych Album of 2016.

Since the live album was released, Radio Moscow has made the leap to a worldwide deal with Century Media Records, for whom they are currently preparing their next upcoming studio album to be released in late-summer 2017. Said Parker, "Radio Moscow couldn't be more stoked to be joining the Century Media family! When we met these guys we spent hours nerding out on obscure classics from our favorite era of rock 'n' roll (1965-1974).... so we feel right at home! Excited to keep writing and working on the next Radio Moscow release on Century Media, and ooking forward to 2017 with a new label and album!"

The band will hit the road internationally as they always do, in the U.S., U.K, mainland Europe, Mexico, South America and Australia when the upcoming, as-yet-untitled album is released. They've toured and performed with the likes of Graveyard, Witchcraft, Joe Bonamassa, Pentagram, the Sheepdogs, Nebula, and Bang. They played the Up in Smoke tour in Europe (with Colour Haze) which included an appearance on the legendary German television program Rockpalast, where the band performed a set, played acoustic and were interviewed. In 2016 they played the Ride Festival, Desert Daze, Electric Funeral, End Hip End It, the Psycho California festival, and as is only appropriate, have headlined shows in both St. Petersburg and Moscow in Russia.






The Last Internationale
Delila & Edgey
-from New York City, NY
-The Last Internationale is a NY band founded by singer Delila Paz and guitarist Edgey. Fusing the powerful storytelling and working-class concerns of classic folk and blues with the rabble-rousing spirit of punk rock, they have built a reputation through steady touring. TLI has shared the stage with artists such as Tom Morello, Joan Baez, Tim Armstrong and Wayne Kramer. Acts they have toured with include Robert Plant, Neil Young, The Who, Kings of Leon, Slash, Scott Weiland, Weezer, One Republic, and many more.

TLI self-released an EP in 2013 called New York, I Do Mind Dying. The band's debut full-length studio album, We Will Reign, was released in 2014 on Epic Records after LA Reid signed them based solely on hearing their cover of Woody Guthrie's "Deportees" and original song demos of "Wanted Man" and "Workers of the World - Unite!", a topical workers' anthem. The situation turned darkly ironic as they were left fighting for their identity against the pressures of assimilating to the homogenizing, hyper-sexualized culture of the pop industry. In 2015, finally freed from their recording contract, TLI released a Mahalia Jackson cover, "I'm Gonna Live the Life I Sing About in My Song," on Tom Morello's Firebrand Records. They are currently finishing up their sophomore album and getting ready to get back on the road.




Buffalo Tooth
Guitar/Vox - Greg Downing
Drums/Vox - Sean Grange
Bass/Vox - Donny Newenhouse
-from San Francisco, CA


-Formed in the mouth of a buffalo and headed to a mouth near you. Buffalo Tooth are a three-piece assault, combining everything badass and cutting off the fat. Rarely hitting the 3 minute mark leaves little room for bullshit and fluff and just enough time for shredding licks, booming vocal harmonies and crushing drums. Their songs are crafted to invade your ear canal, have it's way with your ear drum and leave you begging for more.