Tuesday
September 12
2017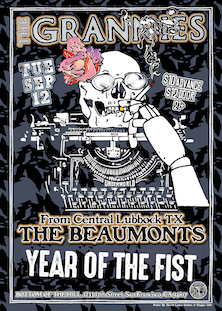 8:30PM

doors -- music at 9:00PM

•••

21 AND OVER




$

10

in advance

/ $12

at the door
The Grannies
www.facebook.com/ThegranniesBand/


Rock / Punkrock


The Beaumonts
www.facebook.com/thebeaumontsofficial/


.Honky Tonk, Country


Year Of The Fist

----

Flaming Wall Of Death

canceled
www.facebook.com/yearofthefist/


Rock, Punk Rock
---

The Grannies


Wait, What? - Vocals, Keyboards, Guitar | Lois 'Carmen' DeNominator - Lead Guitar | Anita Drink - Rhythm Guitar | Jayne Fondle - Bass, Harmonica | Helena Handbasket - Drums | Nice Young Man I, II & III - Stage antics -from San Francisco, CA


-Some people say the Grannies are the inevitable end result from a society that has abandoned its educational system and lost all contact with its morality and civic cohesiveness. The truth, of course, is much, much worse.
The old, now defunct Mission Police Station, San Francisco is as good a birthplace as any for a phenomena as degenerate and altogether fucked up as The Grannies. The blame could be laid at the feet of Fate, but Fate already catches a lot of shit just by standing around, and really wants nothing to do with something as mentally debilitating as The Grannies anyway. Somewhere between 30 and 163 years old, they were drawn to each other there in the fetid human-ish stew slopped together in the holding cells. Petty crimes involving Wild Turkey, electricity, naugahyde, Top Ramen, pigeon feathers ("fresh"), Drano, or some combination thereof would be the official reasons for the various Grannies' incarcerations that fateful night (yes, we know, Fate, you already cleared yourself, so piss off), if any official record existed. It became rapidly apparent that the group had been thrown together for a purpose (seriously, Fate, fuck off; you're just being a bitch now). That purpose was the overthrow of the Austrio-Hungarian Empire….um….hmmmm

Since they were - as usual - both much, much too late, and violently unqualified for the task they set for themselves, they plotted their escape from jail to kill the time. Some time later their nascent leader pointed out that they'd already been out of said jail for hours, maybe days, and were loitering in the beer aisle of the Cala on South Van Ness. The sale on Lucky Lager they discovered there led them to realize their true destiny: to Fuck Shit Up. All of it. And to do so very, very loudly. After spending some time terrorizing the San Francisco old guy punk scene, causing so much consternation that one of their regular venues was forced to become a lesbian folk singer disco cabaret cock-hater-club to avoid any further encounters with the old guys in the old dresses and the old school punkrock doing Rock'n'Roll things to your face whether your face was ready or not, they surfaced long enough to cut a record or three: THE GRANNIES "S/T" DT-001 in 2000,"Taste The Walker" DT-004 in 2002 and "Erected Lady Man" WT-002 in 2004. And it was good. Because, and here's the bitch: the rock is good. It's really fucking good. It's no holds barred, if we were talking about wrestling, which we're not, god dammit. But if we were we'd be talking about illegal atomic pile drivers applied to your little fancy-boy codpiece, we'd be talking about Jimmy 'superfly' Snuka launching a devastating, dismembering assault from the turnbuckle straight down onto your supine sense of decency and all that is holy, we'd be talking about Hulk fucking Hogan lifting his finger, suddenly invincible, terrible to behold in a retarded camp kind of way, mocking the balance of nature as he unloads two humungous fists of spine-crushing sonic mayhem at your doomed-from-the-start, never-had-a-chance skull.

The Grannies have been around since before the dawn of mankind, but they still haven't figured out how to take a shower.

The Grannies are the best example of the benefits of an extensive and lengthy incarceration that the great state of Illinois has to offer.





The Beaumonts
Troy Wayne Delco-Vocals and Guitar
Hollywood Steve Vegas-Lead Guitar
Duck Buford-Bass
James (Jimmy) Ned Messer-Drums
Chip Northcutt-Steel Guitar
-from Lubbock, TX
-There's something about Lubbock. Something other than the oppressive blue sky, the unavoidable cloud of shit-smell that occasionally engulfs the city, the flat, featureless landscape, or the preponderance of teen pregnancy, boredom, alcoholism, and God. There's music. Yes, indeed there is. The Hub City has spawned music like you wouldn't believe. Music loved by folks the world over. Even the real "King of Rock and Roll" came from Lubbock, and if you believe that (which you'd be a damn fool not to), then it ain't too much of a stretch to believe Lubbock is also home to the greatest country band that ever existed. That band is THE BEAUMONTS.

It wasn't too long ago that four of Lubbock's most loved veteran musicians decided the state of Texas country music was dismal at best, and horrifying at its worst. Somehow, over the last twenty years, it became acceptable for a group of frat-boys to show up in thrift-store AC/DC shirts, play half-ass Lynyrd Skynyrd tunes about drinking Lone Star and smoking weed, and call that "country." Well, good friends, THE BEAUMONTS didn't think that was "all that damn country" and decided to do something about it. What resulted was a juggernaut of essence, the trooest of troo cvntry, something akin to the creation of the universe, but with Telecasters. Behold, good friends, and delight in the majesty of THE BEAUMONTS!




Year Of The Fist
Squeaky, Katie Colpitts, hal9000 Beers & KT
-from Oakland, CA


-Year Of The Fist hails from Oakland, California where there has been no shortage of great musicians and bands to play with or catch live any night of the week. In 2011 four friends found themselves in a position to play in the same band instead of different ones. Together their musical backgrounds spanned the genres of blues, acoustic, punk, indie, country but all had the love for rock and roll. 2012 saw the release of their debut album "Death, Breath, Light, and Pain" that finally gave West Coast rock fans something new and different to enjoy from the cookie cutter bands and labels to date. The years following that release were met with building a following through numerous shows in small towns and big cities. Between shows and traveling came time to record a follow-up EP called "Dirty Laundry" that was released exclusively on vinyl in August of 2016.