Sunday
September 17
2017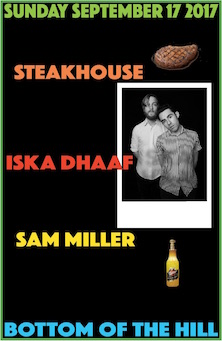 8
:00PM

doors -- music at 8:30PM
•••
21 AND OVER
$
10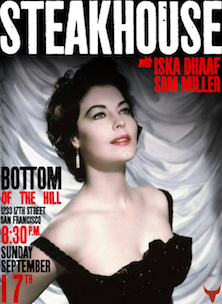 Steakhouse
---

Unconditional Arms

canceled
www.steakhouseband.com/


alternative country electro post-punk\Driftercore


Iska Dhaaf
www.iskadhaaf.com/


dream pop post-punk


Sam Miller
www.facebook.com/sammillertheartist


classical experimental pop punk soundtrack western
---

Steakhouse
Reid Black - guitar, voice
Mark Sullivan - piano/organ, voice
Brian Michaelson - drums
Ville Vilpponen - bass
-from San Francisco, CA


-Steakhouse is a four-piece rock group from San Francisco, California. Their music sounds like post-punk with bits of country/western thrown in at all the wrong times. They are influenced by Scott Walker, Neu!, Roxy Music and The Clash. Steakhouse made a critically acclaimed eponyymous debut LP with producer Joe Goldring (Hope Sandoval, Swans), and is now playing shows and working on new music.






Iska Dhaaf
Vocals, Guitar / Nathan Quiroga
Keyboard, Drums / Benjamin Verdoes
-from Seattle-->Brooklyn
-Iska Dhaaf (taken from Somali, translated roughly to "let it go")
Inspired by Sufi poetry, limitation, and an obsessive preoccupation with writing, Nathan Quiroga and Benjamin Verdoes have fused their seemingly disparate musical and personal backgrounds into something searching and honest. Their songs, with heavy rhythms and cutting melodic hooks, are at once infectious and sweetly disarming.




Sam Miller
Sam Miller
-fromAlbuquerque, NM
-Rock/classical/punk pianist and band director Sam Miller writes songs that encompass the joys of nihilist philosophy, human relationships and the void. Originally from Albuquerque, tracks from his two N.M. bands Grand Canyon and Jenny Invert are still available online, though he is now performing and recording under his own name. Sam burns off insane levels of stamina and endurance, finding nothing weird about running a race across the Williamsburg Bridge while eating a sandwich, chugging a beer and still winning. His unique mix of talent and
irreverence makes each show an experience of pure audio art you won't want to miss.