Friday
September 29
2017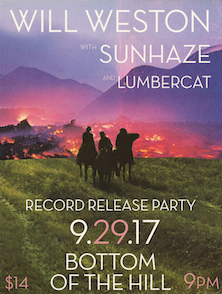 8:30PM

doors -- music at 9:00PM

•••

21 AND OVER




$

12

in advance

/ $14

at the door
Will Weston
www.facebook.com/willwestonmusic/


funk soul guitar rock


Sunhaze
www.sunhazemusic.com/


Indie Rock


Lumbercat
www.lumbercatmusic.com/


rock, blues, folk, reggae, jazz, rap, and more



---

Will Weston
Will Weston
-from San Francisco, CA
-Sometimes it's purely in the blood. Despite a detached upbringing in the tropics of Hawaii, Will Weston's adherence to music runs deeper, the son of two accomplished musicians, and grandson of 1950's Hollywood icons Jo Stafford and Paul Weston. Ten years now relocated to San Francisco, Weston's independent releases have gradually refined a composite style of equally funky and soul-driven rock music, with a truest affection for melody. A lengthy residency at SF's iconic Boom Boom Room in 2015 forged both a loyal support base and core group of local players behind him, earning Weston a seat at the table backed by session players responsible for some of the top recordings to emerge from the Bay Area. Teaming with East Bay funk-addict Nino Moschella at his own Bird & Egg Studios in 2016, Weston locked in ten ambitious new tracks due out this fall, to comprise his third full-length, Meridian.





Sunhaze
Danae Labraņa | Priscilla del Rosario | Erin Walter | Brandon Iljas | Jay Lee
-from San Francisco, CA
-Sunhaze embodies the diverse landscape of their Californian roots. Surf-pop guitars and atmospheric synth amidst melancholic melodies create an aural environment influenced by coastlines and city streets.

Formed in 2012, Sunhaze originated from the vision of Danae Labraņa, a San Francisco transplant hailing from the shores of Santa Barbara. Fellow San Francisco State alumni Priscilla del Rosario and Erin Walter then joined and began adding their synth and bass layers to a handful of Labraņa's rhythm guitar-driven singer-songwriter works. Brandon Iljas soon joined the band as their drummer after he'd been looking for musical projects on Craigslist. Aaron Chin completed the lineup in 2013 as the band's lead guitarist but left the band in 2016 to pursue studies in medicine. Jay Lee joined in 2016 in place of Chin.

Sunhaze debuted their Last Summer EP in Fall 2014. Their debut album Wishful Thinking succeeds the previous bright sun-baked release with a culmination of pop hooks, dynamic rhythms, and darker undertones; released October 7th, 2016.




Lumbercat
Nick Simons:
Alex Lemnah:
Aris Andrews:
Caleb Collins:
Emmanuel Lemnah
-from Walla Walla, WA


-Lumbercat plays its own brand of Woodroots Rock music, but they're more than an average indie rock band. Yes, they are fully independent and self produced/managed. Yes, they wear clothes from the thrift store and try to bring back a better era. Yes, they play songs that blend through rock, blues, folk, reggae, jazz, rap, and more. But there is much more to them as people, which makes trite labels useless. They're hard workers, they think outside the ol' box, and they're out to have a good time, especially if it involves getting in the wilderness. All five members of Lumbercat grew up in Northern California, which defines the music and the musician. Now based out of Chattanooga, TN, they always put on a show that produces smiles and enough sweat to be a tad gross.