Saturday
September 30
2017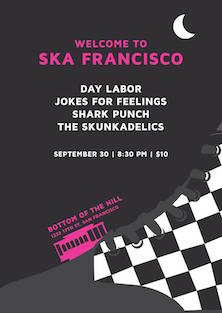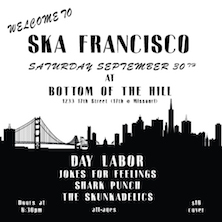 8:30PM

doors -- music at 9:00PM

•••

ALL AGES




$

10




Welcome to Ska Francisco...


Day Labor
www.facebook.com/DayLabor/


Ska/PopPunk/Punk


Jokes For Feelings
www.facebook.com/jokesforfeelings/


punk/ska/rock


Shark Punch
www.facebook.com/sharkpunchband/


ska-punk


The Skunkadelics
www.facebook.com/TheSkunkadelics/


Ska



---

Day Labor
Terrance Williams-Vocals
Fernando Lozano-Drums
Christian Munoz-Guitar 1
Diego Marquez-Guitar 2
Jared Baugh - Bass
Javier Munoz-Trumpet
Isaac Fematt-Tenor & Alto Sax
Marcus Bettencourt - Barry Sax
Noah Ortiz - Bass Trombone
Chris Lundeen-Tenor Trombone
-from Pittsburg, CA


-Day Labor is a 10 piece Ska/Punk band from Pittsburg California. Our influences include: Skankin' Pickle, Suicide Machines, Streetlight Manifesto, Sublime, NoFX, Green Day, Operation Ivy, Big D and the Kids Table, and more. We also really like jazz and latin music.






Jokes For Feelings


-from Oakland, CA




-Jokes for Feelings are a Ska-Punk band based out of Oakland, California.






Shark Punch
Dustin Rose - Vocals, Tommy "Fulltime" Blackard - Guitar
Miguel Munoz - Bass, Nicholas Rosario - Trombone
Noah Ortiz - Bass Trombone, Michael Booker - Saxophone
Dylan Murphy - Drums
-from Hayward, CA


-Shark Punch was formed in 2014 by guitarist Sergio Collazo and bassist Miguel Munoz. After knowing each other from high school they reunited at an Aquabats show and made a plan to start a ska punk band. After a few months they recruited Dylan Murphy on drums and Dustin Rose on vocals. The first brass member was the trumpet player Chris Kerner who was featured on early EP recordings. After a long search for more horn players the band posted flyers at a CSUEB saying "Tromboner wanted for skapunk band". Nick Rosario (trombone) and Noah Ortiz (bass trombone) responded quickly to the ad and joined the crew. A few months later Chris Kerner left the band so they were left to find a suitable replacement. A friend of Noah's and Nick's Michael Booker (saxophone) played a few shows with the guys and decided to become a permanent member. The bands debut album "Hope This Works!" is being released in April. Sergio departed the band in September of 2016 and was replaced by Tommy "Fulltime" Blackard.






The Skunkadelics
Band Members
David Marroquin- Bass/Vocals
Jon Gonzales- Guitar/Vocals
Zach Barbieri- Keys
James Shane- Drums
Sean Funchean-Tenor Sax
Andy Park- Trumpet
Hubert Tai- Trombone
-from San Lorenzo, CA


-We love Ska, we love music, and everything that we listen to plays a part in our music. We just want people to hear us and see where music will take us and as long as we are still having fun then we'll never set our instruments down.