Sunday
October 1
2017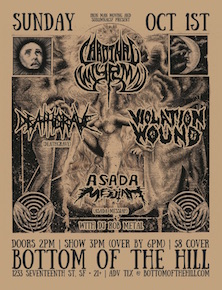 2:00PM

doors -- music at 3:00PM

•••

21 AND OVER




$8




Iron Man Moving &

Subliminal SF

presents

...


The Subliminal Sunday Matinee


BBQ food available: Burgers, dogs, and more!


Cardinal Wyrm
www.facebook.com/Cardinal-Wyrm-157603967620024/


Doom


DeathgraVe
deathgrave.bandcamp.com/


death metal punk doom grind hardcore


Violation Wound


(featuring Chris Seifert of Autopsy)


www.facebook.com/Violationwound


punk rock


Asada Messiah
www.facebook.com/asadamessiah/


Metal



---

Cardinal Wyrm
Leila Abdul- Rauf - Live Bass, Trumpet, Synth, and Vocals / Nathan Verrill - Guitar, Synth, and Vocals / Pranjal Tiwari - Drums, and Lead Vocals
-from Bay Area, CA
-"Revolves around the nucleus of doom metal but also acts as a portal between the past and the present with influences from 90's sludge to the occult drenched doom of the 10's..." - Doommantia.com

"Cardinal Wyrm represents yet another troupe in the seemingly immortal supply of Bay Area metal bands fresh on the scene and grappling for listeners' ears. And just like so many of their regional peers and predecessors, this trio fully embraces the notion of minimizing strict genre tags in an effort to paint a broader array of moods within their comprehensive panorama." - Last Rites Metal Reviews




DeathgraVe
Andre - vocals
Fern - bass
Greg - guitar
Matt - drums
-from San Jose, CA


-Medic, a crude and absurd form of hell has entered our realm and calls itself DeathgraVe... Pass the scalpel, we must stop this thing!




Violation Wound


(featuring Chris Seifert of Autopsy)


Chris Reifert-Guitar, Vocals
Joe Orterry-Bass
Matt O'Connell-Drums
-from CA
-Violation Wound was born in a beer and whiskey soaked basement in June of 2013, driven by the desire to rip out a dose of 100% real punk rock. Nothing trendy, nothing wimpy, nothing pretentious, just quick-fire face melters fueled by aggression and kick ass riffs that burrow into your skin. Violation Wound is not interested in the modern, plastic or safe crap that passes off as punk in these dismal days where haircuts and image are the main focus. They would rather honor the raw, dirty and pissed off ways of the original innovators, while carving out a path all their own.




ASADA MESSIAH
Rodrigo Garcia, Robb Grimes, Steve Kerwin, Sandeep Bhuta
-from San Francisco, CA


-Asada Messiah has churned out a tasty dose of underground metal since 2008, with the release of their first EP Grill 'Em 'All. Their style reflects their love of all things metal, ranging from classic hardcore and thrash to epic doom metal riffs. In 2012, they self-released their first full length album Cross Contamination. Which is a heavy, riff-laden homage to midnight movies.