Thurs
day
October 5
2017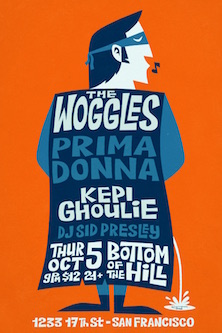 8:30PM

doors -- music at 9:00PM

•••

21 AND OVER




$

12


The Woggles


[co-headlining]


www.thewoggles.com/


Rock & Roll


Prima Donna


[co-headlining]


primadonnarocks.com/


Rock / Punkrock


Kepi Ghoulie
kepiland.com/


Pop punk


DJ Sid Presley
www.facebook.com/DjSidPresley/


DJ



---

The Woggles
Buzz Hagstrom-thumper
Flesh Hammer-picker
The Professor Mighty Manfred-wailer
Dan Eletxro-beater
-from Atlanta, GA
-"For two decades, The Woggles have marched forth from Georgia like Sherman in reverse, leveling nightclubs with their hip-shaking, windshield-steaming garage rock fusillade" (Austin Chronicle). From songs that shake the rafters to shows that make for "a dance party rave-up that could melt Dick Clark's face off" (Village Voice), the Woggles are a four-man delivery system for 200-proof, nitro-fueled rock'n'roll. They share a vision and blaze a trail with the same insanity as the true wildman originators of three-chord mayhem. As their die-hard fans around the world know, music fads and fashions may come and go, but the Woggles have always cut to the chase to drink from the source. The Woggles' live shows are the stuff of rock'n'roll legend. The four members of the band conjure up a sound that bypasses the brain and goes straight for the hip-bone. The Woggles' wailing, tambourine flailing leader "The Professor" Mighty Manfred casts the mojo like electricity from his fingertips. He can also be found spinning vintage vinyl and sharing rock'n'roll ephemera on his acclaimed satellite radio show for SiriusXM Channel 21. Before answering the Woggles' call, Guitar-slinger Flesh Hammer mangled strings with 1980's faves Guadalcanal Diary. Since the Woggles' first seven-inch in 1990, Mr. Hammer has also been in the producer's seat for most of the group's releases. Pouring on the soul coal and making sure that Woggles' fans keep their chiropractors busy, the group's ferocious rhythm section features Alabama catfish farmer Dan Elektro on drums and the unflappable Buzz Hagstrom on bass. Mr. Elektro was already paying his dues at the age of ten when he sat behind the skins for his father's band, the Country Gentlemen. Mr. Hagstrom is native to Folkestone England, and his impeccable continental sense of style comes with a license to kill. On occasion The Woggles' celebrated rhythm section has also recorded and toured as members of Medway England's legendary Graham Day & the Gaolers. The Woggles have sired an extensive discography that encompasses a wide variety of CD & vinyl releases spreading over various international labels. They have appeared in several videos and independent films and have also contributed to numerous compilations, tribute albums, and film soundtracks. They have shared stages with such legends as Iggy & the Stooges, the Zombies, the Sonics, the New York Dolls, Johnny Cash, the Troggs, Dick Dale, Bo Diddley, Nancy Sinatra, the Pretty Things, and Big Star as well as artists such as the Strokes, the Raveonettes, Beck, Holly Golightly, Guitar Wolf and countless others.

"Go see a Woggles show. It will change your life" (Meredith Ochs, NPR All Songs Considered).




Prima Donna
KEVIN PRESTON - Vocals/Guitar
AARON MINTON - Keys/Sax
DAVID S. FIELD - Drums
"LIGHTS OUT" LEVINE - Bass
-from Los Angeles, CA
-orn and raised in the San Fernando Valley on a steady diet of punk and glitter rock, Prima Donna are infamous on the LA scene. Their curriculum includes musical road trips with Eddie and the Hot Rods, Adam Ant, Glen Matlock & The Philistines, The Dictators, and even Green Day, who they supported on two arena tours on two continents. Frontman Kevin Preston has also continued participation in Green Day side-project Foxboro Hot Tubs.

While touring the US and Europe, Prima Donna was in and out of the studio numerous times, both at home in L.A. and in Milan, Italy. The finished product is "Nine Lives and Forty Fives", a 11-song variety pack that displays the band's skills in the studio, and compiles some of their rarest and rawest recordings, including "Rock and Roll is Dead," available for the first time in US. The song was named one of the Top Ten Songs of 2013 by Little Steven's Underground Garage.

*2015 - Prima Donna's new song 'Deathless' named Coolest Song In The World. Prima Donna now has the most Coolest Songs on the Underground Garage: Deathless (2015), Rock And Roll Is Dead (2014), Puta Te Amo (2012), Demoted (2010).
"If you see Prima Donna's live show, by the time it's over, I guarantee that you will walk out the door knowing that, by god, you've just seen a rock 'n' roll band. Odds are good that you'll also be humming a new favorite melody and grinning from ear to ear too, all while still digesting the rock 'n' roll spectacle you just experienced. And that, my friends, is always an exhilarating feeling".
-John Anderson, Twangville




Kepi Ghoulie
Kepi Ghouile
-from Sacramento, CA
-Kepi was the bassist and vocalist for Sacramento, California based pop-punk band the Groovie Ghoulies. He has been recording and touring both with a full band and as an acoustic soloist since the Ghoulies' break-up in mid 2007.




DJ Sid Presley
David Greenfield
-from Pacifica, CA
-David Greenfield, aka DJ SID PRESLEY, spins the music of the late 1950's through the 1960's, including British Invasion beat, surf and exotica instrumentals, groovy mod pop, greasy rhythm and blues, raw garage rockers, and much, much more. An evening with DJ Sid guarantees sounds geared to dancing, drinking and excitement. His carefully-curated sets are packed full of both ear-opening rarities and crowd-pleasing ravers. And it's all vinyl, all the time!