Saturday
October 21
2017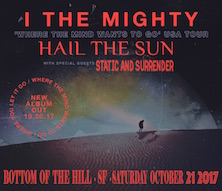 7:00PM

doors -- music at 8:00PM

•••

ALL AGES




$

1

5

in advance

/ $17

at the door
I The Mighty
ithemighty.com/


Progressive / Indie / Alternative


Hail The Sun
www.facebook.com/hailthesun/


Progressive Post-Hardcore


Static And Surrender


members of

The Trophy Fire

,

Pine And Battery

, and

Cold Hot Crash


staticandsurrender.com/


Folk, americana, blues
---

I The Mighty
Brent Walsh
Ian Pedigo
Chris Hinkley
Blake Dahlinger
-from San Francisco, CA
-"We Don't want people to just listen to our music on a surface level. We want people to dive into the songs and dissect them and to really feel them." explains Brent Walsh, vocalist for Bay Area alternative rock innovators, I The Mighty.

Since their 2007 inception, I The Mighty have developed a cult international following due to their dynamic sound, seamless chemistry and explosive live show as seen on tour with genre heavyweights such as Coheed & Cambria, Glassjaw, Pierce The Veil, and Say Anything. Over the course of the band's previous three full-lengths and four EPs, they've continually progressed as artists, with each release serving as a snapshot of where the band was at in their very impressive career.

I The Mighty's forthcoming full-length record, Where the Mind Wants to Go / Where You Let it Go Equal, due out October 20th on Equal Vision Records, is certain to please the band's long-term fans while simultaneously raising excitement about the growth they have undergone while exploring this most recent chapter in their creative journey.






Hail The Sun
Donovan Melero - Beatz, Voice of the Gods (drums,lead vocs)
Aric Garcia - Lickz, Voice of the People (guitar R)
John Stirrat - Thumpz, Voice of the Children (bass)
Shane Gann - Riffz, Voice of the Cookies (Guitar L, vocs)
-from Chico, CA
-Hail The Sun is a progressive post-hardcore quartet who met in Chico, CA, while studying music technology. The overlap of influences throughout the group has led them to become one of the most dynamic and intricate musical acts to come out of the scene in decades. Formed by drummer Donovan Melero and guitarist Aric Garcia (who played in a death metal band in high school), the original idea for the musical direction was to remain high-energy, while allowing melodies and harmonies to be a prominent feature, rather than just screaming to portray intense emotion. The addition of Shane Gann and John Stirrat brought additional flavors, and the group began to stretch its creative legs, allowing itself to write parts and songs that were much more heavily influenced by jazz, funk, blues, fusion, and Latin musical styles.

The group has toured extensively throughout its three-year existence, and has recently begun experiencing national exposure. They have one of the most high-energy live shows ever witnessed, and that's all while playing amazingly difficult lines and rhythms. Their drummer is their singer, which is a show in and of itself, and the addition of the other three acting as visual "frontmen," while not singing, lets the audience's attention move from here to there seamlessly, and without feeling bored.






Static And Surrender
Adam Schuman: geeeders 6&4, voh-cals
Jeff Campbell: voh-cows, geeders 6&4
John Schuman: skinzzzzz & yelling in key
-from San Francisco CA
-Made up of members of venerable Bay Area rock bands The Trophy Fire, Pine and Battery, and Cold Hot Crash, national award-winning singer songwriter Jeff Campbell was recruited by brothers Adam & John Schuman to write and record new ideas. The result is a body of songs that all 3 were excited enough about to ask decorated Berkeley producer Jim Greer (The Rondo Brothers, Foster the People) to help them bring their ideas to life. The members' combined careers boast multiple festival appearances, regular radio play on 3 major Bay Area radio stations, a performance on the Jimmy Kimmel Live show, onstage appearances with and support for Filter, Train, John Mayer and more. The name Static and Surrender was given to the project to symbolize the members' surrender to the static that they felt their individual careers had settled into, and their hopes that joining forces would open new doors for them collectively. New York bred, Los Angeles based bassist Lauren Stockner (Cruel Youth, HOLYCHILD) was added to round out the lineup in early 2017, as touring to support their as yet unreleased debut album commences.