Tuesday
October 24
2017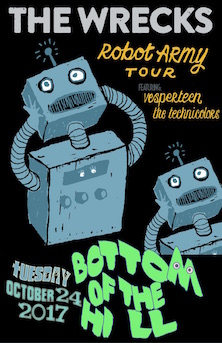 7:00PM

doors -- music at 8:00PM

•••

ALL AGES




$

13

in advance

/ $15

at the door


The Wrecks
www.facebook.com/WeAreTheWrecks/


Indie Rock


Vesperteen
www.facebook.com/vesperteen/


pop/rock


The Technicolors
www.facebook.com/thetechnicolorsmusic/


Rock



---

The Wrecks
Nick Anderson -Vocals/Guitar
Aaron Kelley - Bass
Nick Schmidt - Guitar/Vocals
Westen Weiss -Guitar
Billy Nally - Drums
-from Los Angeles, CA
-Los Angeles-based indie rock band The Wrecks root from Thousand Oaks, CA. The group consists of Nick Anderson (vocals/guitar), Nick Schmidt (lead guitar), Westen Weiss (guitar), Aaron Kelley (bass), and Billy Nally (drums). Heavily influenced by groups such as The Pixies, The Strokes, Weezer, and Vampire Weekend, this 5-piece isn't afraid to blend undeniably catchy choruses, with self-deprecative, honest lyrics and vocals that pull you right to the center of each song.

The band actually recorded their debut EP on a whim, alongside friend and engineer Andrew D'Angelo, when they were surprised with the news that a friend had been granted access to a studio for just a few days. With a total budget of $0, and only a week as a band under their belts, the group set out to record the best songs that they could in 3 days. After working ridiculous hours through the night, and to the next day whenever they could get in the studio, the 3 days were over and the EP was cut. Little did the band know, they were not even allowed to be in the studio that week. So through feelings of guilt and worry, they cleaned every bit of information of theirs from the studio computer, every crumb of Dominoes from the studio couch, and they were off with their entire EP on an hard drive in a backpack.

The homemade "We Are The Wrecks" EP was self-released in March 2016. After hundreds of spins on Sirius XM's Alt Nation, and features on some of Spotify's biggest rock playlists, the band signed to Another Century/Sony Music in December of 2016. Their debut single Favorite Liar broke the Top 40 on alternative radio, has over 6 million plays on Spotify, and spent almost a dozen weeks in the top 10 of Alt Nation's Alt-18 Countdown. After signing their record deal, The Wrecks sought out to record a new EP in Los Angeles. 3 weeks into recording, and after blowing almost the entire budget, the band decided the music was going in the wrong direction and threw the EP away. "I just felt that we had strayed too far from the core of the band's sound," says frontman Nick Anderson. "It sounded like we were trying really hard to get on the radio or something, and I feel like that rarely gets you on the radio anyway." So after getting their label and management on board, The Wrecks decided to move into Anderson's grandmother's house in his small hometown (Wellsville, NY) to work on the new record in a barn studio that their friend Patrick Barry owns. Co-produced again by Nick Anderson and Andrew D'Angelo, The Wrecks say their new upcoming EP "comes from a genuine place, and is something we're all truly proud of."




Vesperteen
Colin Rigsby
-from Columbus, OH
-Colin Rigsby, who has been playing drums since the age of 12, took a stab at civilian life following more than a decade of writing, recording, and touring the world with his band House of Heroes, but it didn't take very well. What started out as a remedy for restlessness, however, soon developed into a full-blown passion and the beginnings of Rigsby's new solo project--Vesperteen.

Within a few months of going solo Rigsby had penned a new batch of songs and teamed up with his good friend and accomplished music producer, Jesse Cale, to produce Vesperteen's self-titled debut EP, which was released in September 2015.

Vesperteen's pop/rock sound, reminiscent of bands like The 1975 and Bleachers, has connected with a large audience. In just over a year, Rigsby has accrued more than 30,000 followers across social media platforms and generated 1,000,000 plays on Spotify as an independent artist.




The Technicolors
Brennan Smiley (Vocals, Guitar), Troy Lowney (Keys),
Mike (Nico) Nicolette (Bass), and Sean Silverman (Guitar, Vocals).
-from Phoenix, AZ
-American rock band The Technicolors started off as the brainchild of Phoenix-native Brennan Smiley.

The formation of the band itself started back when Smiley was acoustically supporting other local music acts by performing his songs live. After a few shows, the project began to grow and soon turned into a more serious approach, taking on the form of The Technicolors.

Inspired by the New Millennium's garage rock and mid 90's Brit-pop, The Technicolors combine elements of those two genres with classic and modern components and subject matters to introduce a completely new and exclusive sound.