Monday
October 30
2017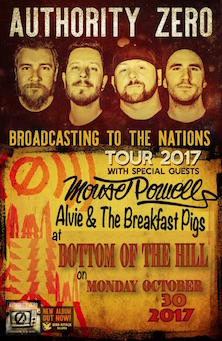 7:00PM

doors -- music at 8:00PM

•••

ALL AGES




$

1

3

in advance

/ $15

at the door
Authority Zero
authorityzero.com/


punk rock


Mouse Powell
www.mousepowell.com/


Hip Hop


Alvie & The Breakfast Pigs
alvieandthebreakfastpigs.com/


Rock 'n' Roll, Trash Blues
---

Authority Zero
Jason DeVore (Vocals)
Sean Sellers (Drums)
Mike Spero (Bass)
Brandon Landelius (Guitar)
-from Mesa, AZ
-Mesa, AZ based punk rock royalty Authority Zero has managed to weather the music industry storm and endure living on the road away from friends and loved ones for almost 2 decades. With four studio albums under their belt, two live acoustic albums, and two EP's, they appear to be just getting started. Over the past few years the band has broke ground internationally, beginning with shows in Japan, followed by performances at Belgium's legendary Groezrock, Spain's Resurrection Fest and UK's Rebellion Fest amongst countless other European festivals. With tours through Russia and Australia in the works, Authority Zero continues to seek new destinations to spread their live show and music.

Initially their goal was simple; create a sound that paid tribute to their punk rock forefathers, but not confined by the musical barriers that typically bound the genre together. Now,18 years later, they have just wrapped on their fifth full-length studio album. Named after the Malcolm Gladwell book, The Tipping Point was recorded with producer Cameron Webb (Pennywise, Social Distortion, Motorhead etc.) at Maple Studios in California. Their latest effort pays tribute to their punk rock forefathers while expanding their musical boundaries into unconventional reggae and rock tinges beyond the typical punk rock aesthetics, creating a whirlwind rock album that will undoubtedly take listeners by storm.
The new album is set to be released on April 2nd via Hardline Entertainment-US/Canada/Japan, Concrete Jungle-Europe/UK and 3wise Records-Australia and will be followed by a heavy touring schedule around the globe. Lead Singer and Front Man, Jason DeVore says "The excitement and anticipation for the new album The Tipping Point that I have is unparalleled," says vocalist Jason DeVore. "The closest thing I can think of is how I felt when we first released A Passage In Time so many years ago. You feel you're really doing something right when you and the members of your band are rocking out to it like it's their new favorite album that just came out. That's how it should feel. The energy, the intensity, and collaborative sounds along with a new realm of production working with Cameron Webb has made it extremely intense. It's a taste of the old school and slingshots into new areas and veins of music we have yet to tap into. We've also incorporated some surprise elements. It's an album based on the idea of tipping the scales, unity, causing a ruckus while forging on, and the history and future of all who have been involved and will be for years to come. We're fired up."






Mouse Powell
Mouse Powell / Vocals
Danny Torgersen / Trumpet, Keys, Guitar
-from Tempe, AZ
-Based out of Phoenix, Arizona. Mouse Powell creates multi genre music with a focus on maintaining a Hip Hop aesthetic. Following his 2013 release, "These Are The Good Times" Powell has toured extensively throughout the U.S. Primarily drawing from personal experiences, his music is sure to reel you in. With new music on the horizon Powell promises to bring us his unique flavor of soulful music.






Alvie & The Breakfast Pigs
Philp Thorneycroft, Jake Natkin Alvie Adams, Brandon Eisenberg
-from San Francisco, CA
-Originally from Tempe, Arizona but now tearing up the mean streets of San Francisco, Alvie & the Breakfast Pigs don't mess around. We play LOUD in your face rock n' roll. Full stop. Our music is best described as trash blues, or fast rock n' roll with punk and blues roots. The Pigs combine meaningful lyrics, in your face riffs, complex rhythms and an attention grabbing stage flair. If you love rock music from the psychedelic 60s through the pop-punk of present, the Pigs has something for you.