Wednesday
November 1
2017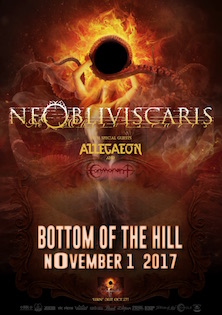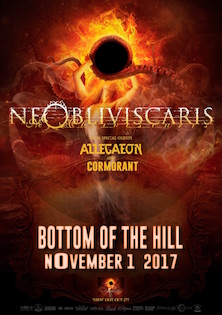 8:30PM

doors -- music at 9:00PM

•••

ALL AGES




$

14

in advance

/ $17

at the door
Ne Obliviscaris
www.facebook.com/NeObliviscarisBand/


Progressive/extreme/melodic metal


Allegaeon
www.facebook.com/Allegaeon/


Modern Melodic Death Metal


Cormorant
www.facebook.com/CormorantMusic/


progressive black death metal doom



---

Ne Obliviscaris
* Xen - Lead Vocals & Lyrics
* Tim Charles - Violin & Clean Vocals
* Matt Klavins - Guitar
* Benjamin Baret- Lead guitar
* Dan Presland - Drums
-from Melbourne, Australia
-Formed in 2003, Ne Obliviscaris (pronounced; Nay Ob-li-vis-kar-is) hit the live scene February, 2006 to widespread critical acclaim throughout Australia with many hailing their unique sound, intense live shows and talented line-up.

A 6 piece metal band consisting of violin, 2 guitars, bass, drums, clean and extreme vocals; Ne Obliviscaris hail from Melbourne, Australia, and include a vast array of influences within their sound from progressive to black, thrash, death and melodic metal, and even western art music, jazz and flamenco. Creating music of many extremes, and with compositions often exceeding ten minutes in length, Ne Obliviscaris is at times very technical and complex and at others simple and subtle, creating an extremely original brand of metal that defies normal categorisation. Melbourne, Australia's NE OBLIVISCARIS are intense progressive/extreme/melodic/violin-laden metal like you've never heard before.

Almost 9 years after the bands formative rehearsals first took place; after numerous line-up changes that had seen the band go through almost continual change, always for the better; after more than 5 years had passed since the band released a 3 song demo that garnered them worldwide critical acclaim in the metal underground; after a successful 15 month battle with the Australian Immigration Department saw their French lead guitarist, Benjamin Baret, finally granted a long term visa in Australia in large part due to the incredible support of thousands of fans worldwide; after more frustrations and delays than the band thought they could ever possibly deal with; NE OBLIVISCARIS finally unveiled their debut album 'Portal Of I in mid 2012, and they did so to incredible reviews from every corner of the globe.

Released worldwide through Code 666/Aural Music & Welkin Records in Australia, 'Portal Of I' saw NE OBLIVISCARIS quickly rise to become one of the most prominent and biggest drawing metal bands in Australia, headlining festivals such as Progfest & Sonic Forge to crowds of up to 1000 people, doing multiple headline tours across Australia and all the while gaining more fans every day throughout the worldwide metal scene.

On 26 July 2017, the band announced that their new album, Urn, would be released on 27 October 2017, and released a music video for the track "Intra Venus". They also announced Robin Zielhorst, former member of Cynic, Exivious, and Our Oceans, as their session bassist for the album.





Allegaeon
Riley McShane (Vocals),
Greg Burgess (Guitar),
Michael Stancel (Guitar),
Corey Archuleta (Bass),
Brandon Park (Drums)
-from Denver/Fort Collins, CO
-Allegaeon (pronounced: uh-lee-juhn) was formed in 2008 by guitar player Ryan Glisan. Soon thereafter joined the classically trained guitarist Greg Burgess, vocalist Ezra Haynes and bassist Corey Archuleta to round out and form what people have come to know now as the Colorado Kings of Melodic Metal. In 2008, Allegaeon released their 4 song, self-titled EP and quickly gained attention from the local, national and international metal fans as well as Metal Blade records. In 2009, barely a year after releasing their first EP to the world, Allegaeon agreed to a deal with Metal Blade Records and thus began their relationship and Allegaeon's entry into the ever expanding metal community. Allegaeon had a slew of singles that played in such heavy rotation on the Sirius Liquid Metal Station that they cracked the stations top 20 most played bands list. Metalstorm.net lists Allegaeon's debut album, FOFAF, as the #4 rated death metal album of all time (by the websites rating standards). FOFAF was critically acclaimed by many and catapulted the band out of obscurity and into the ranks of metals elite new bands.

Lyrics, an oft over-looked facet of death metal is one the more interesting aspects of Allegaeon. The band crafts their prose with a bit of a different mindset - often touching on space, civilization and philosophy. Presiding over the music is the mighty voice of McShane, and that his contributions to the record are so commanding is all the more impressive considering that this is his first release with Allegaeon, coming into the fold after vocalist Ezra Haynes stepped down in 2015.

While achieving all they set out to with Proponent For Sentience, things are already progressing in Allegaeon's world, and album number five is already being gestated, though they plan to hit the road hard before returning to the studio. "At this point, our main goal is to make it overseas and to start thinking globally, and to be able to tour with bands like Lamb Of God, Soilwork, Scar Symmetry, Slayer, Carcass or Machine Head would be dreams come true," Burgess enthuses. "But, we have also already started writing the next record, and we're very happy with the progress so far. And yes, we have a very epic/big idea that's pretty ambitious, but it all comes down to money and if we'll be allowed to do it!"




Cormorant
Nick Cohon - Guitars
Brennan Kunkel - Drums, vocals
Matt Solis - Guitars, vocals
Marcus Luscombe - Bass, lead vocals
-from San Francisco Bay Area, CA
-Cormorant is a progressive black/death metal band from Petaluma, California. Forged in 2007, the group consists of bassist/vocalist Marcus Luscombe, guitarist Nick Cohon, guitarist/vocalist Matt Solis, and drummer Brennan Kunkel. In addition to performing numerous shows throughout the Bay Area with notable acts like At The Gates, Wolves In The Throne Room, Ne Obliviscaris, and Pallbearer, Cormorant has completed full US tours with Primordial, While Heaven Wept, YOB, Norska, and others.