Friday
November 3
2017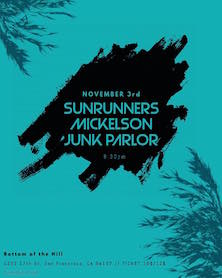 8:30PM

doors -- music at 9:00PM

•••

21 AND OVER




$

10

in advance

/ $12

at the door
----All bands on the bill are donating their proceeds to
http://www.sonomacf.org/sonoma-county-resilience-fund/.
Sunrunners


[co-headlining]


www.sunrunnersband.com/


Rock


Mickelson


~

Scott Mickelson




[co-headlining]




Record release


www.mickelsonmusic.com/


Alternative Folk


Junk Parlor
www.junkparlor.com/


Rock/Crooner punk



---

Sunrunners
-Stephen Loase (Low-c): Lead vox, Keys
Jordan Meyer: Guitarist, Background vox
Mark Colwell: Drummer
Andy Francis: Guitarist, Keys, Background vox
Paul Chalker: Bassist
Hunter Dreidame: Viola
-from San Francisco, CA


-Sunrunners is a San Francisco-based quintet led by singer / songwriter Stephen Loase. Since releasing their first self-titled album in 2014 the band has been making a name for themselves with high-energy live shows at popular Bay Area venues like Great American Music Hall, Rickshaw Stop, Slim's, Bottom of the Hill, Elbo Room and more. A combination of haunting piano licks, ethereal guitar and synth riffs, pounding bass lines all backed by a thunderous drumset, you can catch them on Spotify, Soundcloud and, if you're lucky, Live 105's Soundcheck Show w/ Aaron Axelson. The band is headed into the studio later this year to work on their next album, and they can't freaking wait to share it with you all.






Mickelson
Scott Mickelson w/full electric band
-from San Francisco, CA
"Mickelson sings with aching urgency, cloaked in a dark fog that keeps his melodies balancing on the edge of unresolved, underscoring his take that life is never an all-easy road. His work is smart, moving and never overdone." - MusicNewsNashville

Here are a few tracks from the forthcoming Mickelson full-length "A Wondrous Life". This is the follow up to the critically acclaimed and Grammy balloted record "Flickering". In addition to producing and engineering this record, Mickelson also plays/sings nearly all of it except the drums.



Junk Parlor
Jason Vanderford, Rt Goodrich, Tim Bush, Laela Peterson-Stolen
-from Oakland, CA
-A galvanizing force on the Bay Area indie rock scene since launching serendipitously in 2013, Junk Parlor is that crazy-rare band whose vibe is so driven by joyful schizophrenia that it transcends easy genre trappings. Junk Parlor is an adventure down a path paved with eastern european, bohemian, vintage bellydance melodies and our own brand of moody, haunting originals. Leonard Cohen-esk vocals and poetry, acoustic manouche jazz guitar, ripping violin, cajon, percussion, fretless electric bass, all come together to paint a fantastically edgy dream scape. We have been described as "Crooner Punk" by our fans and are often compared with Nick Cave, Tom Waits and Gogol Bordello.
Jason Vanderford leads the band with vocals and acoustic guitar, accompanied by Laela Peterson's moody viola and violin, Tim Bush's growling fretless electric bass and Robin Goodrich's swaggering beat….. A dream on the edge of a cliff.