Saturday
November 4
2017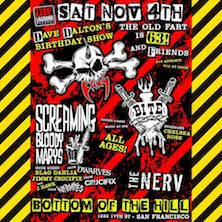 8:30PM

doors -- music at 9:00PM

•••

ALL AGES




$

10

in advance

/ $12

at the door


Dave Dalton's Birthday Party show,

featuring ...


Fang
liverockyell.wixsite.com/die-laughing-records/copy-of-the-nerv-1


Hardcore


Screaming Bloody Marys


featuring Blag Dahlia of the

Dwarves


liverockyell.wixsite.com/die-laughing-records/screaming-bloody-marys


Garage punk!


Bite
www.facebook.com/bitesf/


punk rock


The Nerv
www.facebook.com/thenervband/
punk / thrash

---

Fang
Sammytown - Vocals
Obadiah Bowling - Guitar
Tommy Knox - Guitar
Brandon Brown - Bass
Jamey Dangerous - Drums
-from Oakland, CA
-Fang began 2017 with a 'mini' Arizona tour, by August they'll head to the Rebellion festival in England as part of their European tour, returning to the States in the early Fall. Sammytown and Fang will also be profiled in the documentary "Turn It Around: The Story of East Bay Punk," scheduled to come out later this year which is expected to get a lot of national and international exposure.

Among the leaders in the West Coast's hardcore scene, Fang has influenced many bands and many high-profile bands have covered Fang material. Mudhoney, the Butthole Surfers, Metallica, and Nirvana all covered "The Money Will Roll Right In" and "I Wanna Be On TV" was covered by Green Day. Founding guitarist Tom Flynn's distinct guitar playing has also influenced many followers, including those in the grunge genre. Kurt Cobain's list of his top 50 albums had Landshark as his choice at number 6.

​In the past four years, Fang has toured Brazil, Cuba, Mexico, and Europe as well as numerous U.S. tours; they are always looking to find ways to tour foreign countries that are just now beginning to open up to punk rock bands.

Along with leader Sammytown, Fang's present line-up includes Obadiah Bowling and Tommy Knox on guitar, Brandon Brown on bass and drummer Jamey Dangerous. And while we can't claim Fang is the 'hardest working band in show biz,' we do know that they are one of the most enduring and productive hardcore bands ever!




Screaming Bloody Marys


featuring Blag Dahlia of the

Dwarves


Angelique X Stacy - Vocals, Therermin
Dave Dalton - Guitar, Acoustic guitars
Ian Larkin - Bass
Juan Barajas - Lead guitars / Slide
Greg Langston - Drums
-from San Francisco, CA
-The Screaming Bloody Mary's started 1989-1996..Now there back 23 yrs later with new power house singer

Angelique Stacy (Charm School Drop outs/Venus Bleeding) Ian Bass, Juan Guitar, Greg Langston Drums and Dave Dalton Guitars. Bands they share the stage with: Nirvana,The Dwarves,Supersuckers,Ramones,The Melvins,The Adicts, The Muffs, Dee Dee Ramone, Zeke, Mud Honey, Hole, Cheap Trick, D.O.A.,The Dictators and a whole lot more!




Bite
Chelsea Rose, Keith Mueller, Jon Basmajian, Eric Borst
-from San Francisco, CA
-BITE is the perfect name for this group of veterans of the San Francisco's underground scene: Their unique style of "Punk 'n' Roll" has its roots in old- school punk acts that range from The Cramps to the NY Dolls.
The band rips a chunk from the past and chomps down on the future, bringing a no-holds-barred attack with just enough melody to keep it fun for their fans and the unsuspecting public at large. We're about playin' fast, loud, sexy, trashy down and dirty punk and roll. We've had some kickass players in this band and the current lineup is no exception. We've all been around the block and back so this shit ain't about jumpin' on some trendy bandwagon. This is our lives people, and along the way we've met and played with some amazing people, you know who you are. A couple of shows that stand out are gigs with Texas Terri, The Lewd And Dee Dee Ramone a year before he died, Michael Monroe (Hanoi Rocks), Cheetah Chrome & Sylvain Sylvain (The Batusis)... Yeah that's the reason we do this, that and we have to, what else is there people besides REAL RAW ROCK AND FUCKIN' ROLL?!




The Nerv
Nis Anthrope - Vocals
Chris Campbell - Guitar
IAN - Bass
Mike 86d - Drums
-from San Francisco, CA
-A new generation of Punk is rising, infused with what originally made Punk Rock great –raw power, combined with a socially conscious worldview. Fronted by powerful female vocals, THE NERV packs a punch with their heavy, driving beats and brutal, in-your-face instrumentation combined with provocative lyrical content.

THE NERV began in 2007 with original members CHRIST CAMPBELL on guitar and vocalist NIS ANTHROPE, later joined by bassist IAN LARKIN and PAUL HOPKINS (Skinlab) on Drums. THE NERV released their first LP, "THE NOW CRISIS" in 2009, followed up with "DECIVILIZED" in 2011 and "TRUST IN FIRE" featuring ANDY V. GALLEON (Death Angel) on drums.

The band has hit its stride professionally, supporting well-known acts such as D.R.I., D.O.A., AGENT ORANGE, THE DICKIES, PHILM, THE FREEZE, BATALLION OF SAINTS and THE TUBES.