Sunday

November 5

2017




2:00PM

doors -- music at 3:00PM

•••

21 AND OVER




$8




Iron Man Moving & Subliminal SF

presents...


The Subliminal Sunday BBQ


Free BBQ food: Burgers, dogs, and more!


Serpents Of Dawn
www.facebook.com/SerpentsOfDawn/


Metal, Doom, Heavy


Ion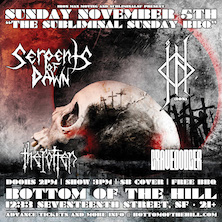 www.facebook.com/Iontheband/


Metal


The Rotten
www.facebook.com/therottenband/


Grind, Metal, Hardcore


Gravedodger


members of

Walken

,

Hazzard's Cure

, and

Hightower


www.facebook.com/gravedodger/


metal punk skate rock



---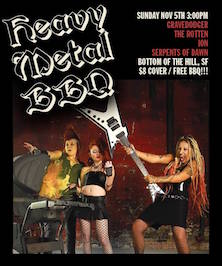 Serpents Of Dawn
Kyle, Steve, Michael, Patrick
-from San Francisco, CA


-Originally formed in 2012, Serpents Of Dawn from San Francisco features members of Acephalix & Vastum. Classic rock influenced doom metal that honors the traditions of Trouble and Black Sabbath.






Ion
Ryan/Adam/Dan
-from San Francisco, CA


-A lot of different elements make up this album and while sometimes the post-metal leanings often times border on overindulgent, you'll be hard pressed to find a more interesting and genuinely experimental black metal record this year. This is an example of a band that is fusing many disparate styles into a single whole that manages to do it right while also standing quite far out from the pack. There is some smoothing out required to truly make this a single cohesive sound, but for a debut, this is really fucking solid and I am eager to see where this band goes. If they continue to evolve and get smarter about how they mix different genres together ION may very well be the next "it" band of black metal.






The Rotten


-from The Bay Area, CA




-The Rotten is a Grind/Death/Hard core band from the Bay area. Consisting of Jeff Brown (El Jeffe) / Guitar-Vox (Cursed, They Are All Dead, Two(O)nine, Reduced To Ashes) Paul Cowan / Bass (Starch, Hate, Kaos), Curran Evans / Guitar-Vox (Starch, Blackgoat, Nuke Box Zero), Ryan Slater-Vox (Betray The Species, They Are All Dead, Surface), David Benson / Drums (Acephalix, Lawless)





GRAVEDODGER


members of

Walken

,

Hazzard's Cure

, and

Hightower


Dave Fallis- Bass and Vocals
Guy Alvarez- Drums
Shane Bergman-Guitar
Adam Delaware- Guitar
-from San Francisco, CA


-What do we sound like????.......Like Thin Lizzy riding a skateboard to hell!!!!