Tuesday
November 7
2017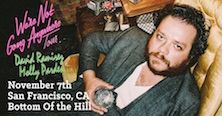 8:30PM

doors -- music at 9:00PM

•••

ALL AGES




$

13

in advance

/ $15

at the door
David Ramirez
www.davidramirezmusic.com/


Folk/Americana


Molly Parden
www.mollyparden.com/


alt-country country folk
---

David Ramirez
David Ramirez
-from Austin, TX
-We're Not Going Anywhere: At a historical moment of immense political, social, and ecological uncertainty, those four simple words comprise both a promise and a protest, a comforting reassurance of inclusion as well as a hearty cry of defiance. It's a statement that offers no small sense of hope, in that sense matching the music contained on the album.

On these vividly imagined and passionately performed songs David Ramirez takes in the world from his unique perspective: "Being half white and half Mexican has made this current political climate especially interesting. So many cultures in this country are being viewed as un-American and it breaks my heart. My family have raised children here, created successful businesses here, and are proud to be a part of this country. Most of what I've seen as of late is misplaced fear. I wanted to write about that fear and how, instead of benefiting us, it sends us spiraling out control."

The album that bears that title marks a departure for Ramirez, who builds on the rootsy sound of his early albums to create something new, something bold, something anchored in the here and now. Scouting out unexplored music territory, these songs bounce around energetically, toying with new ideas and experimenting with new sounds, as barbed-wire guitars and retro-futuristic synths grind against his anguished vocals and evocative lyrics.





Molly Parden
Molly Parden
-from Nashville, TN
-"Georgia may lay claim to Molly Parden, but her music carries us somewhere
farther away - and closer to ourselves. Her 2011 release "Time Is
Medicine" and 2016 EP "With Me in the Summer" reveal beautifully crafted
melodies and angelic refrains, enough to ensure the admiration of her
Nashville peers and collaborators. Performing alongside her fellow crooners
and fans, like Matthew Perryman Jones, Sam Outlaw, Erin Rae, Caleb Groh and
Peter Bradley Adams, her songwriting illuminates the intimacy and honesty of
an artist who is beginning to define her stars and follow them even further
than the reins of the Cumberland Plateau."