Saturday
November 11
2017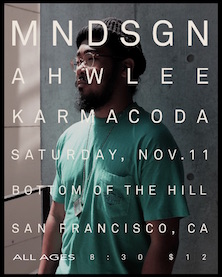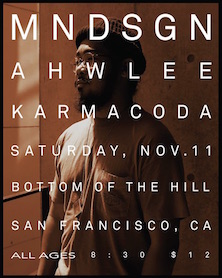 8:30PM

doors -- music at 9:00PM

•••

ALL AGES




$

12

in advance

/ $15

at the door
MNDSGN
www.facebook.com/MNDSGN/


experimental beats


Ahwlee
www.facebook.com/ahwlee/


hip-hop/rap


Karmacoda
www.facebook.com/karmacodamusic/
Electronica
Wolf Langis
of Bottled Water
bottledwater.bandcamp.com/


hip-hop/rap, post-minimalist



---

MNDSGN
Ringgo Ancheta
-from Los Angeles, CA
-Mndsgn (born Ringgo Ancheta) grew up in south New Jersey, raised with Gospel music at church, and B-Boy culture at home. Experimenting with beat-making, he befriended fellow producer Knxwledge and the two formed the influential Klipmode collective (along with Devonwho and Suzi Analogue). Mndsgn's music flourished when he moved to Los Angeles, catching the attention of Stones Throw who released Yawn Zen (2014), an LP of introspective and mostly instrumental beat creations, punctuated by vocal cuts.

Body Wash is his second album for Stones Throw, a full set of realized songs that were only hinted at on Yawn Zen. Influences here include the likes of early SOLAR records material, Leon Sylvers III, Kashif, and Dave Grusin. These artists, Mndsgn says, "embodied that potent feeling in the early 80s boogie/funk/soul/jazz/fusion wave." He adds, "I was also digging back into some early 90s R&B sounds and started really imagining what it would be like if I had mashed the two eras together." He explains Body Wash as "a soul record that plays with nostalgic elements in a very dynamic & positive way. Think about it as a box of crayons for you to draw emotions with."

The album was built around a backstory, a loose narrative thread through which he could filter his unformed ideas. In the narrative, a homeless man encounters a mysterious woman who gives him shelter. She instructs him to bathe with a very peculiar body wash. As he soaks and sinks deeper in a thick lather of this unknown solution, the man finds himself transported to an alternate dimension. Mndsgn describes the story as a vessel "that would allow me to speak on topics that were universally relatable … The story actually became a true outlet for me to address worldly issues with Self." The resulting album also represents a dynamic step forward in songwriting. Without explicitly relating its plot or characters, the album as a whole turns on the story's key theme, the psychedelic, transformative power of love.




Ahwlee


-from Long Beach, CA




-your mind makes it real.






Karmacoda
Brett Crockett (production/guitar/vox), Eric Matsuno (bass),
Jessica Ford (vocals), Mark Pistel (keyboards, DJ)
-from San Francisco, CA
-Fusing elements of electronica, rock and pop with a danceable groove, Karmacoda create music that is modern yet deeply moving and emotional.

Central themes of transformation: love, loss, lust and longing show up as story lines in their songs, pulling instrumental inspiration from a myriad of musical genres and time periods. It's been over a decade since the band was founded as a personal writing and recording project by founder and vocalist B. What started as an experimental music project in between bands, has turned into five studio albums, three remix records and a live album.

Their songs, often cinematic in scope and vibe, have been featured prominently in film and television soundtracks and have won a number of music awards.



Wolf Langis
of

Bottled Water


Danny Berliner, Maxx Bartko
-from San Francisco, CA


-Bottled Water is the manic, panicked and dynamic duo of unorthodox hip-hop MCs raised in the suburban shadow of New York City. Now frequently spotted in the Bay Area, Dot Dot (played by Maxx Bartko) and Wolf Langis (played by Daniel Berliner) have made it their mission to seek out complex, unusual instrumentals and coat them with vivid surreal imagery, dark topical humor, and absurd insights.