Sunday
November 12
2017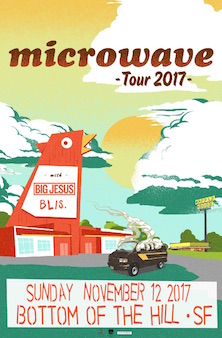 7:30PM

doors -- music at 8:00PM

•••

ALL AGES




$

12

in advance

/ $14

at the door
Microwave
www.mcrwv.com/


Post-hardcore, Emo, Alternative rock


Big Jesus
bigjesus.net/


Alternative/Indie


Blis.
www.facebook.com/blismusic


Emo hip/hop rap


Pity Party
www.facebook.com/therealpityparty/


Kinda punk




---

Microwave
Nathan Hardy - Vocals, Guitar
Tyler Hill - Bass
Timothy (Tito) Pittard - Drums
-from Atlanta, GA


-Blending elements of hardcore, emo, and indie rock in a melodic cocktail unmatched by scene contemporaries, Atlanta four-piece Microwave balances frankness with a penchant for wit, allowing personal confessions to make a striking impact. Owning the best of the punk continuum, lead vocalist Nathan Hardy will sing, scream and yelp amidst snarling guitar work. While often tipping into the heavier side of resonant punk, the band shines brightest in soft reservation.






Big Jesus
CJ Ridings - Guitar
Spencer Ussery - Bass/Vocals
Thomas Gonzalez - Guitar
Blake Gamel - Drums
-from

Atlanta, GA


-After years spent playing in hardcore and metal bands in Atlanta, guitarist CJ Ridings and some friends decided it was time for a change. Coming together under the name Big Jesus, they added harmonies, hooks and a layer of feedback familiar to any fan of the psychedelic side of Nineties alternative.

The band has birthed one of 2016's most pleasant rock surprises, Oneiric, out September 30th. The album title means "dreamlike," and crystallizes the band's fuzzy aesthetic. This batch of loud yet textured songs – some new, some previously self-released – were recorded with producer Matt Hyde (Deftones, Slayer) last December in Los Angeles. Equal parts snarling riffs and sugary melodies, songs like "SP" and "Shards" could soon mean fans of Silversun Pickups and Mastodon are clinking pint glasses at a venue near you.




Blis.
Aaron
Jimi
Luke
-from Atlanta, GA
-"[Blis] is quick to put a torch to its influences, while also making the case that it's the rightful heir to all sorts of respective thrones." - A.V. Club

"Blis offer a tune that is equal parts uplifting, sorrowful, and utterly riveting." - Consequence of Sound

"[Gossett] externalizes his inner monologue, as guitars clash, fire and sting like faulty synapses and frayed nerve endings" - Pitchfork


Pity Party
Sarah - sadboy/vox ||
Julien - whiskey/guitar ||
Dustin - high fashion/guitar ||
Mike - XVX/drums ||
Bob - Just bass ||
Lupi - alt. percussion ||
-from Bay Area/Central California


-Drinking 40s, eating burritos.