Tuesday Novem
ber 14
2017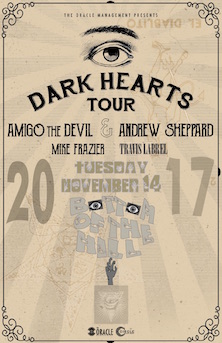 8:00PM

doors -- music at 8:30PM

•••

ALL AGES




$

15


Amigo The Devil
www.amigothedevil.com/
americana folk indie /

murderfolk


Andrew Sheppard
www.andrewsheppardmusic.com/


Country/Soul/Rock n' Roll


Mike Frazier
www.facebook.com/MikeFrazierVA/


folk indie punk


Travis LaBrel ----

Wil Ridge

is off the bill
https://soundcloud.com/travis-labrel


Alt country



---

Amigo The Devil
Danny Kiranos
-from Spicewood, TX
-Danny Kiranos is the singer, songwriter and banjo player behind his astonishing persona, Amigo the Devil. If you never met him, you might mistake Amigo the Devil for a monster. The murderfolk maudit's most popular song is called "Perfect Wife." With gallows humor to make Marshall Mathers wince, it details gruesome spousal abuse that escalates until the wife rifle-blasts her husband. Two other beloved anthems are "Dahmer Does Hollywood" and "The Reluse," which was originally titled, "Ed Gein." The latter opens the self-released Diggers EP by loosely sketching the necrophiliac Wisconsin serial killer who once made a belt out of human nipples. Think Johnny Cash at his blackest, mixed with Father John Misty, if he exhumed graves at Hollywood Forever Cemetery. The Devil is far more than a folkie with a dark side. There's a sepulchral beauty, acid wit and ingenious arrangements. Both his larynx and his lyrics make him one of the most unique voices in music -- even if he sticks only to songs of the doomed.
-




Andrew Sheppard
Andrew Sheppard
-from Hailey ID


-Andrew Sheppard grew up in the high desert plains of Hailey, Idaho. Over the last few years he has gone from the hustle and grind of LA, to the honky tonks of TN, through the heartland of America and back to his roots. Former frontman of the Gypsy River Haunts, Sheppard is making a name for himself as a solo-artist and bandleader. Looking to explore new sounds and develop his own style, Sheppard now finds himself surrounded by a talented backing band of like minded musicians. His music has been described as a cockeyed medley of soulful Country, honest Rock N' Roll, with an outlaw mentality. Sheppard has recently shared the stage with several major artists including: Josh Ritter, Willie Watson of Old Crow Medicine Show, Shooter Jennings, and Jason Isbell among others. After he relocated back to Idaho in 2015 he released his first studio full length "Far From Here" recorded at Bedrock Studio's in Los Angeles and is set to release his 2nd album "Steady Your Aim" recorded at Ivy Hall Studio in Nashville, T.N. in the summer of 2017. No matter how his music hits you, it'll give you a glimpse of where you've been and where you're going. Andrew Sheppard- A straight shot of life.





Mike Frazier


MikeFrazier
-from Winchester, VA
-Virginia rocker Mike Frazier will be releasing his sophomore EP, titled Complete Control, on October 21 through Geneva Records. We have the honor today of streaming the effort's lead single, a rollicking, three-and-a-half-minute romp of political punk rock that's equal parts rambunctious and melodic. Bringing together sounds reminiscent of both Green Day and Frank Turner, Frazier has mastered a formula so infectious you'll be driving yourself mad waiting an entire month for Complete Control to arrive. If "F-35" is any indication of what to expect from the whole of his new EP, Frazier is sure to be the next big name in punk.



Travis LaBrel


-from Los Angeles, CA


-I come from a land of mountains and wilderness, I lived amongst the city dwellers, i gained my power through observing the ways of the human being. Armed with an axe made of wood, I carve words from the very lives of men.

I also played in a band with my brother and best friends, called Olin And The Moon, in Los Angeles, CA. Now I've hit the road solo here in SLC.