Saturday
November 25
2017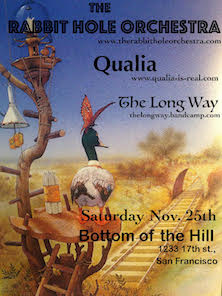 8:30PM

doors -- music at 9:00PM




••• 21 AND OVER




$

10

in advance

/ $12

at the door


The Rabbit Hole Orchestra
www.forgottenkingdomsband.com/


Symphonic psychedelic rock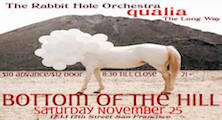 Qualia
www.qualia-is-real.com/


progressive death soul


The Long Way
www.facebook.com/thelongwayband/


Folk Rock n Roll
---

The Rabbit Hole Orchestra
Vocals, Guitars, Synths, Programming / Benny Langfur
Synths, Programming/ Elad Geriany
Drums / Darren Thompson
Violin / Ariel Fournier
Bass / Jonas Blume
Trumpet, Vocals / Charles Darius
Percussion / Adam Dainowski
Vibraphone / Lydia Martin
Cello / Lewis Patzner
Violin / Ben Bregman
-from Oakland, CA
-The Rabbit Hole Orchestra is a Symphonic psychedelic rock act from Oakland, CA. Their music paints cinematic themes that journey into the unknown distant outer-worldly landscapes and yet still take off and land on rootsy, middle-eastern , native american tribal grooves.

Founded by composer Benny Langfur on guitar, sitar and vocals - it blends a symphonic cast of characters consisting of violins ( Ariel Fournier and Ben bregman ) cello (Abe Finkelstein ) trumpet /trombone ( Charles Darius ), percussion ( adam Dainowsky) and vibraphone ( Lydia Martin ), with rich textures of oceanic synths , ( Elad Gariany) drums (Darren Thompson ) and bass ( Jonas Blume ).





Qualia


-from Oakland, CA


-Oakland songsters, purveyors of progressive death soul for the multiverse.
Qualia is the auditory outfit spearheaded by Alison Niedbalski.
Born in Alabama and raised in the South (Bend, IN), her devotion to music became apparent early on by the hours she spent spinning records, playing classical piano, and arguing with other children who "loved" the Beatles but had never heard of Harry Nilsson.
After coming of age in the Chicago scene, she moved West to teach philosophy and found herself forming a band. Bear witness the unique brand of torch gospel brought to you by this group of envelope pushers.




The Long Way


-from Berkeley, CA


The Long Way is the musical accompaniment to the unreleased Kurt Vonnegut novel starring Conor Oberst, Emmy Lou Harris and Bernie from Weekend at Bernie 2. This futuristic spaghetti western romance set in the year 2045 casts our characters in a society that outlaws shortcuts and everyone must learn The Long Way if they want to get out alive.
An east bay punk folk band with strings!