Thursday
December 7
2017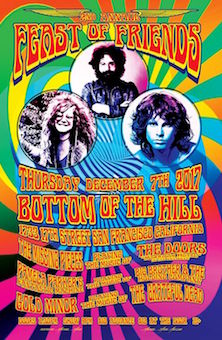 8:30PM

doors -- music at 9:00PM

•••

21 AND OVER




$

10

in advance

/ $12

at the door




Second Annual Feast Of Friends,

featuring...


The Missing Pieces


playing

The Doors

'

"Morrison Hotel" in its entirety


www.facebook.com/TheMissingPieces/


tribute band


Pamela Parker And Her Fantastic Machine


playing the music of

Big Brother & The Holding Company


www.pamelaparkerrocks.com/


tribute band


Gold Minor


playing the music of

The Grateful Dead


facebook.com/goldminormusic


tribute band



---

The Missing Pieces


playing

The Doors

'

"Morrison Hotel" in its entirety


Mark Joseph - Nate Harris - Billy Riordan - John Pringle - Mike Schnebeck
-from San Francisco, CA


-The Missing Pieces is a San Francisco rock n roll band composed of players with a diverse appreciation of music, and years of experience experimenting with different approaches to sound.






Pamela Parker And Her Fantastic Machine


playing the music of

Big Brother & The Holding Company


Pamela Parker - Vocals, Guitar & Piano
Tom Finch - Guitar & Vocals
Ryan Hickey - Keys & Vocals
Spence Murray- Bass & Vocals
Chris McGrew - Drums
-from San Francisco, CA


-Pamela Parker's Fantastic Machine is a celebration of the Summer of Love -- just in time for the 50th Anniversary! This band captures the San Francisco music scene, ranging fro rock to gospel to R&B to epic psychedelia. The band features Tom Finch on guitar/vocals, Spence Murray on bass, Chris McGrew on drums, and Jordan Feinstein on piano/organ/vocals. The band's raw energy along with Pamela's powerhouse pipes bring to mind Amy Winehouse and Ann Wilson. Their dynamic show draws you close, then surges forward with anthemic power to lift you higher. Pamela shreds like a cross between Susan Tedeschi and Bonnie Raitt, guiding us with danceable hooks alongside her dueling lead player, Tom Finch. The upcoming album creates a fresh rock n'roll landscape with a diversity of touchstones you wouldn't expect to experience like Alabama Shakes, Adele, Thin Lizzy, and Funkadelic. The last album, Evolutionary Process, debuted at #1 and was up for Album of the Year in Vancouver, BC.






Gold Minor


playing the music of

The Grateful Dead


Jesse Ray Smith
Adam Dragland
Michael Carney
John Hollis
-from San Francisco, CA
-Co-writers and original founding members Michael Carney and Adam Dragland began a musical venture over a decade ago in Saratoga Springs, New York. Their initial collaboration 7 Stories Falling landed an eclectic range of opening slots with Dashboard Confessionals, Ludacris, Blue Oyster Cult and other established artists along the east coast.

After relocating to the Bay Area in 2006, the pair spent several years performing under the name Team Candy, and The First Church of the Sacred Silversexual all the while writing, recording and searching for the right musical recipe. Jesse Ray Smith had ventured from Marin to San Francisco with The Pheromones, acquired 'Gulch Alley Studios', and co-founded acclaimed blues-soul rock outfit The Bad Jones. Simultaneously, Seattle rock theater drummer John Hollis (Hedwig, Ian Moore, Gerald Collier, Burning Opera SF) headed south from the soggy, forested Northwest music scene after a residency in SF with The Burning Opera. With the addition of Hollis and Smith at Gulch Alley Studios, Gold Minor found it's completion, it's home and its form.

And so the story begins...A series of recording/filming endeavors, touring dates and long bizarre weekends followed. The debut album Bone Flowers is set to release in the following months with more travel and adventure to come.