Friday
December 15
2017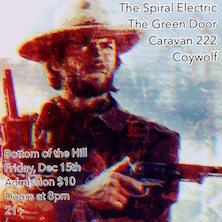 8:30PM

doors -- music at 9:00PM

•••

21 AND OVER




$

10


The Spiral Electric
www.facebook.com/TheSpiralElectric/


Psychedelic Rock


Caravan 222
www.facebook.com/caravan222/


Cosmic Californian music ~ 70s Rock


The Green Door


Album release


www.thegreendoorband.com/


Western Psychedelic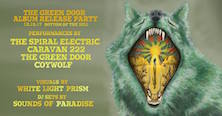 Coywolf
www.facebook.com/coywolfsound/


Psych Rock, Junkyard Rock




and




Visuals by

...

White Light Prism

---

The Spiral Electric
Clay Andrews -- Vocals, Guitar, Keyboards, Percussion
Nicolas Percey -- Lead Guitar
Daniel De Lorimier -- Bass, Vocals
Tyler Weeks -- Drums
-from San Francisco, CA


-"Where am I ? – is it over jet? – eight miles high ? – so far gone ? – sorry, back to reality now – I just came back from an exciting journey around Spiral Electric land – their firstborn shows what this Bay Area outfit is all about: orchestrating a brightly colored, psychedelic cruise, using long-drawn, moody melodies, accompanied by misty, echoing harmonies that grow softly on you – trippy drums, sitar vibes, 60s organs and wah-wah guitars in the sky with diamonds – the psychedelic scene is quite big in San Francisco, to stand out and be noticed is not always an easy ride unless you deliver the sonic goods which this electrifying four piece does with magnificent instrumental compositions produced with a mind-blowing flair and an inventive 60s sensibility – relax, put your headphones on, lights out, volume up and start the soundtrack of your spiritual cruise – have a safe trip across the universe.…" - Turn Up The Volume




Caravan 222
Kyle DeMartini, Nathan Porter, Jacob Landry, Dashiel McClary, Simon Todorovic
-from valparaiso, chie // oakland, ca // san francisco, ca


-Caravan' is cosmic Californian music, a San Franciscan super troupe, and musical collaboration formed by adjoining members of some of the bay area's top bands. The group consists of Jacob Landry (Lee Gallagher and the Hallelujah), Kyle Demartini (Down Dirty Shake), Nate Porter (New Sun Company), Dashiel McClary (Big River Ever After), and their Chilean counterpart, Simon Todorovic (A Full Cosmic Sound). With all the members being individual writers, the band invokes a range of emotions, from bittersweet ballads and cruising poem songs to dirty rock and roll anthems. Their musical presence is reminiscent of 70's Dylan, Young, CCR, The Dead, Cohen, Donovan and more. Upon seeing these players live one can't help but to feel they must be witnessing something special and rare to this day and age. May the 'caravan' rock as it rolls down the good times highway to a rumbling stop at a cosmic spot near you!






The Green Door
Mike Carnahan, Vanessa Wolter, Reese Abell, Evan Wardell, Devin Triplett
-from San Francisco, CA
-Blending raw, rhythmic desert sounds with driving 60s acid rock, The Green Door beckons the listener into a landscape evocative of the wild, uncompromising West themes of the 1960s with a mind-bending, psychedelic twist. Formed in San Francisco in 2008, the band is comprised of Mike Carnahan on lead vocals and guitar, Reese Abell on bass, guitarist Evan Wardell, and drummer Vanessa Wolter, as well as Devin Triplett on keys. The Green Door's atmospheric strumming juxtaposed with formidable signature riffs that coast atop pounding, driving beats send the listener's mind spinning off to the badlands beyond the border of sonic civilization.

The result is a melodic reckoning force of American myth and counter culture ideology. Deriving their name from a Bob Dylan comment in the 1967 documentary "Don't Look Back", the concept of a green door stands as an image of mystery enclosing the individual's perception of the outside world. The Green Door takes reference from throw-back genres and low-fi records as well as American western iconography and legends, but looks forward in its artistic song writing approach, as is evident on their first full-length album titled The Green Door released in 2011. In this way their music has an avant-garde aesthetic, yet still feels familiar. The Green Door will be releasing their second album on December 15th, 2017.




Coywolf
Tyler Allen
Alix Barksdale
Randy DaRoza
Nicolas Percey
Jonesy Daysleeper
-from Oakland, CA


-Hailing from Oakland, Coywolf is a combination of players from different musical backgrounds that culminate into a sound that meets it's namesake. From from the sneaking quiet to the snarling loud. Coywolf is invading your cities.