Wednesday
December 20
2017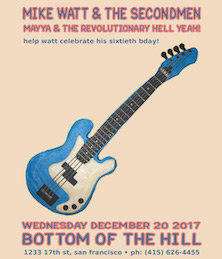 8:30PM

doors -- music at 9:00PM

•••

21 AND OVER




$

15


It's Mike Watt's Sixtieth Birthday!


featuring...


Mike Watt & The Secondmen
www.hootpage.com/


Punk rock


Mayya & The Revolutionary Hell Yeah!
mayya.bandcamp.com/


Indie rock
---

Mike Watt & The Secondmen
mike watt and the original secondmen:
pete mazich and jerry trebotic
-from San Pedro, CA
--"What can be romantic to Mike Watt?"
This question is from the song "One Reporter's Opinion." It first appeared on "Double Nickels on the Dime," the Minutemen's acclaimed 1984, 45-track, two record release; often named among the best and most influential albums of the 1980's. At the time of the song's recording, this query may have seemed rhetorical, as the band was an integral part of Los Angeles's explosive early punk and hardcore scene. By 1984, The Minutemen - - Mike Watt on bass, guitarist D Boon and drummer George Hurley - - had already earned a reputation for fierce, rapid-fire performances. Their songs were abrupt gusts of genre-bending music, with concise, satirical lyrics that probed and skewered topics like Reagan era politics and commercial popular culture.

Yet nearly 30 years later, this question continues to haunt Watt, although it's long been freed of any presumed irony. In the intervening years, it has become increasingly evident that much of this bass player, songwriter and "spieler's" life is in fact very romantic to Mike Watt.

His passions are observable in everything. It's heard in Watt's musical signature - an extraordinarily lyrical bass playing style - a singular sound that leaps from any of his many recordings. It's visible in his mystical veneration of the natural world, revealed by equally allusive photos of seagulls, sea lions and sunrises taken during his daily "crack of dawn" biking and kayaking excursions in San Pedro, California, his beloved hometown. (Some of these exquisite images were the subject of a 2010 solo exhibition, "Eye-Gifts From Pedro" at the Track 16 Gallery in Santa Monica, CA., and are part of his book, "On and Off Bass," Three Rooms Press, 2012). His romance extends to the ordinary, too, observable in the way he describes his state of mind, meals, gigs, friends and daily activities in his compulsively detailed tour diaries available on-line since 1997 (before the term "blog" was coined), on his self-built and meticulously maintained website: hootpage.com, which he launched in 1996.

Watt is a cultural omnivore. Especially over the last decade, his openness (and eagerness) to devour new musical experience has become increasingly audible (and visible) in the dozens of projects and live performances he's participated in with artists as divergent as Yoko Ono, Black Moth Super Rainbow, Petra Haden and Kelly Clarkson.

With the songwriting and recording process freed from terra firma through digital technology and internet file sharing, Watt's been able to contribute bass to recordings by friends and fans from all over the world, who have contacted him through email and social media. He's also sought the partnership of musicians he's encountered on his own: through his (since 2001) web-based radio series "The Watt from Pedro Show," or met on tour, particularly since 2003 when he began playing bass with the perpetually globetrotting Iggy and the Stooges.





Mayya & The Revolutionary Hell Yeah!
Spencer Owings on lead guitar, Sam Jones on drums, Evan Anderson on bass, Alex Pollak- percussion/good vibes, n Mayya on lead vox/rhythm guitar
-from San Francisco, CA


-"Diminutive in stature, Gargantuan in spirit" -Mayya was born in Russia, grew up in the TL in SF. she is inspired by david bowie, gogol bordello, iggy pop, funk music, george harrison, pretty much anything w energy and good melodies... and anyone who is unapologetically themselves! She has a band called Mayya & The Revolutionary Hell Yeah! with the wonderful Spencer Owings on lead guitar, Timmy Stabler on bass, Sam Jones on drums, Alex Pollak on percussion/backup dancing/good vibes.