Saturday
December 23
2017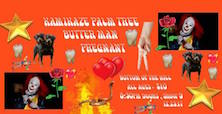 8:30PM

doors --

music at 9:00PM




••• ALL AGES




$

8

in advance

/ $10

at the door
Kamikaze Palm Tree
www.facebook.com/kamikazepalmtree/


Surf // Noise // Psych


Butter Man
www.facebook.com/Butter-Man-1807964976090728/


Synthy Groovy


Pregnant
www.facebook.com/danielispregnant/


Electronica \ whimsical vibes
---

Kamikaze Palm Tree
Cole Berliner and Dylan Hadley
-from San Francisco, CA


-Kamikaze Palm Tree is an experimental rock duo originating in San Francisco, California. They explore many different musical styles and have sounds anywhere from slow psychedelic noise, surf rock, to loud embracive rock. Kamikaze's high energy music lends the ability to have bombastic and theatrical performances, involving wearing masks and audience participation.






Butter Man
Matthew Horton: electronics, guitar, vocals
Adam Wilson: keyboard, synth
Simon Clinton: drums
-from San Franciwco, CA
-Butter Man is the solo project of Matthew Horton. The music combines the sampling ethos of plunderphonics with the performance aspect of a noise band.






Pregnant
DANIEL TRUDEAU AND STYES MUNSON
-from PLACERVILLE, SACRAMENTO, CA
-Pregnant is the musical pipe works of once described hillbilly savant Daniel Trudeau, an intriguing producer, visual artist, musician, and father hailing from the Sierra Nevada Foothills of Northern California. Pairing a sweet vocal style reminiscent of Neil Young with a swelling collage of electronics, foot pedals, guitars and even saxophone, Pregnant's whimsical and DIY vibes are dream-worthy. Raising a family in Placerville, CA brings inspiration to the all aspects of his music, as the lyrics and instrumentation work together to capture a feeling of modern isolation, personal struggle, and self-discovery. After a rapid succession of limited edition releases that helped refine and perfect his sound, Pregnant's Mush debut, Life Hard : I Try fulfills the promise of his earlier work without losing any of the risk-taking genre mixing that makes his music so unique. Pregnant's willingness to combine traditional songwriting, pure vocals, and warped experimentation mark him as an act to watch.