Sunday
December 31
2017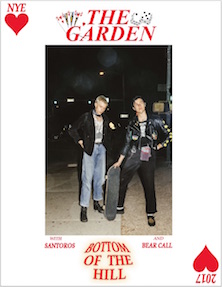 8:30PM

doors --
music at 9:30PM

•••
ALL AGES
$
20
in advance

/ $25

at the door


The Garden
www.thegardenvadavada.com/


Vada Vada ~ fast electronic garage punk


Santoros
www.lossantoros.com/


garage surf rock


Bear Call
www.facebook.com/bearcallband/


garage-soul, dirty boy doo-wop
---

The Garden
Wyatt & Fletcher Shears
-from Orange County, CA
-West Coast neo-punk twins, moonlighting models, and provocateurs, The Garden represent a new, youthful punk scene of the West Coast, with their DIY principles, and ability to exploit some previous sixty years of music and fashion to their advantage. Fact is, The Garden don't give a shit what you think, they've been conceptualizing their own style since well before the formation of the band in 2011.

The constantly evolving duo of identical twin brothers; Wyatt (bass) and Fletcher (drums) Shears, from Orange County, CA consistently defy genre and categorization, so much so, that they created their own term Vada-Vada* to define their sound and escape being pigeonholed. Their minimalistic two-piece bass and drums essence is dirty, raw and immediate. They strip away everything unnecessary about modern punk and get straight to the heart of it.

With four releases up their sleeve; three EPs and their debut album The Life and Times of a Paperclip via Burger Records in 2012, the duo have become known for their fast, condensed, and heavy style. On their debut, they tear through 16 tracks in about the same about of time, with zero time to take a breath. But like youth culture itself their creative expression stretches far beyond any one release.

The duo, not only have captured the attention of the punk scene, but by way of fashion juggernaut, Saint Laurent and creative director, Hedi Slimane, have shown they are as home on a Paris runway as a music stage.

The Garden's shows are experiential and powerful. Arresting a sense of urgency, they throw you heavily into their parallel world of vada-vada. The duo seduce their audience onto a carnival ride of sound and movement that stops as abruptly as it starts; it's just a close approximation of The Garden experience.

*Vada-Vada: "an idea that represents pure creative expression, that disregards all previously made genres and ideals"- Wyatt Shears (The Garden) 2015.




Santoros
Adolfo Canales Garcia - Lead Guitar
Marcos Rocha - Drums
Diego Pietro - Keys/Vox
Carlos Precichi - Guitar/Bass/Vox
Jossef Virgen - Vox
-from Los Angeles, CA
-Based out of Los Angeles, California- Santoros is a groovy, garage-surf band formed in 2010 with Adolfo Canales (guitar), Carlos Precichi (guitar/vocals), Marco Rocha (drums), Diego Prieto (organ/keys) and Jossef Virgen (vocals). Santoros began in Adolfo's garage as jam sessions and soon after evolved into this brotherhood of passionate musicians creating music for the world, playing shows all over L.A along side other great bands like Chicano Batman, Colleen Green, White Fence, Cherry Glazer, Froth, Mystic Braves, Shannon And The Clams ,Tijuana Panthers, Allah Las, Mac De Marco, The Growlers and many more, and have toured nationally. The bond they have with each other has made their music united, unique, and their energy infectious.

They have released three albums, Ancestros in 2012 recorded by Orlando Torres , Animals in 2014 recorded and released by Lolipop Records and El Perdedor in 2016 recorded by Joel Jerome and released by Lolipop and Burger Records. Santoros are the Creators of La Batalla Festival that took place at The Glass House in 2017.






Bear Call
Skyler Warren
Nikk Moreno
Aaron Mortemore
Shahan Salim
-from San Francisco, CA
-Fuzzy, reverb drenched guitars? Check. Driving, heavy bass? Check. Loud, hard hitting drums? Check. Lyrics about love, frustration, and pissing yourself in a one night stand's bed? Check. Drawing influence from San Francisco garage rock heroes like Thee Oh Sees and Ty Segall, Bear Call is searching for a way to stay 20-something forever while evading all responsibility and forever chasing an excuse to wake up hungover. You are all welcome along for the ride, especially you, Mom.

With a skewed sense of romanticism, love for cheap alcohol (only because it is all he can afford) and a fear of wasting youth, Skyler Warren started Bear Call alone in his bedroom in late 2011. Three years and a number of broken hearts later, something resembling a real band was formed with the addition of Nikk Moreno on bass and Eric "Moose Knucks" Mohammed on drums.