Thursday
January 4
2018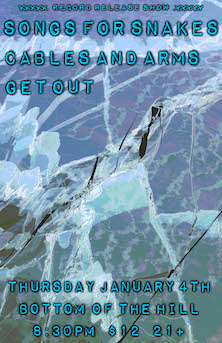 8:30PM

doors -- music at 9:00PM

•••

21 AND OVER




$

10

in advance

/ $12

at the door


Songs For Snakes
www.facebook.com/songsforsnakes/


Indie Rock


Cables & Arms
www.facebook.com/cablesandarms/


Punk


Get Out
thethirdvictimofabigailrutledge1.bandcamp.com/


alt indie rock



---

Songs For Snakes
Bill Taylor-Guitar, Vocals Stephen Delany-Drums
Justin Castilla-Bass
-from San Francisco, CA
-Songs For Snakes formed in 2005 in San Francisco and features Bill Taylor on guitar and vocals, Steve Delany on drums and vocals and Justin Castilla on bass and vocals. SFS plays melodic indie/punk in the vein of Husker Du and Jawbreaker.





Cables & Arms
Nick Baker -Guitar/Vocals
Josh Brown - Guitar/Vocals
Brad Kayal - Drums
Paul Schultz - Bass
-from San Francisco, CA


-The San Francisco music scene has long been in need of disruption, and it is our goal to shift paradigms. We exist to promote interdependent catalysts for change and seamlessly develop interdependent resources, and we aim to coordinate ethical resources in a responsible way to meet our fans' needs. Cables & Arms has an extremely low burn rate for a cottage business with loss leader pricing, and we believe that this translates into a high value proposition in today's market. We are currently "ramen profitable" and the results of concentrated focus groups have determined that even a small increase in market penetration would result in a three-fold increase in disruption. Help us reach our goals: download our music, listen to it (optional) and make your opinion of our hard work known throughout your social media networks and ours. Remember: the only way to feel connected to others is by mindlessly disseminating your thoughts about trivial matters to people who would barely even acknowledge your existence on the street, if at all. Don't worry, you're doing the right thing.






Get Out


-from Oakland, CA




-Originally intended as a solo project during Mag Delanas time with bands Yaphet Kotto and Saviours, The Third Victim of Abigail Rutledge became Delanas main focus after leaving Yaphet Kotto and Saviours in 2006. Highly influenced by the alternative rock movement of the 1990s. His distinct sound is characterized by high gain, extensive use of feedback and distortion, and melodic soulful vocals.