Tuesday
January 16
2018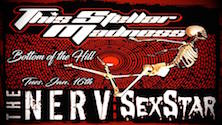 8:30PM

doors -- music at 9:00PM




••• 21 AND OVER




$

10

in advance

/ $12

at the door


This Stellar Madness
www.facebook.com/this.stellar.madness/


Epic Dark & Heavy Art-Rock


The Nerv
www.thenerv.net/


Punk / Hardcore


SexStar
www.facebook.com/kristisexkremesstar/


PUnk rock



---

This Stellar Madness
Moxie St. Bones - Vocals
Nicole Dickerson - Bass and Backing Vocals
Ryan Reines - Drums
PJ - Guitar
-from Bay Area, CA
-This Stellar Madness
(Epic Dark & Heavy Art-Rock from San Francisco)

"In this knock-down, drag-out fight for your mind...
What'll we find?... A dose of dirty and a hit from the divine..."

Launched from the side-show of a supernova circus in 2016, this multi-dimensional band of Bay Area psychonauts fuses thunderous grooves, ferocious riffs, and soaring, maniacal vocals, into a burning-hot, brain-melting plasma of dark, ridiculous awesome...

Through glitter-filled gutters and moments of grimy grace:
Rocket, ever onward, toward This Stellar Madness...





The Nerv
Nis Anthrope - Vocals
Chris Campbell - Guitar
IAN - Bass
Mike 86d - Drums
-from San Francisco, CA
-A new generation of Punk is rising, infused with what originally made Punk Rock great –raw power, combined with a socially conscious worldview. Fronted by powerful female vocals, The NERV packs a punch with their heavy, driving beats and brutal, in-your-face instrumentation combined with provocative lyrical content.

The NERV was born in San Francisco in 2007 with original members Christ Campbell on guitar and Nis Anthrope on the mic, later joined by bassist Ian 'Satan' Larkin, who toured the world as a child prodigy pianist. The band has collaborated with drummers Andy V. Galleon of Death Angel, featured on "Trust In Fire" (2016) and Paul Hopkins of Skinlab.

In response to increasingly militaristic presence the US was assuming under the Bush administration and the erosion of civil liberties on domestic soil, The NERV self-released their first LP, "The Now Crisis" in 2009 on joke label, Capitalist Records. Fueled by the #Occupy movement and outrage at police brutality witnessed in the Bay Area, specifically the shooting of Oscar Grant in a BART train station, The NERV released "Decivilized" in 2011, before #BlackLivesMatter was a movement. "Decivilized" was released on Epic Failure Records. Their third album "Trust In Fire" was originally self-released on Stony Records, but in 2016 The NERV officially signed with punk label Die Laughing Records, which is re-releasing and distributing the album globally. "Trust In Fire" is available digitally, on CD, vinyl, with a limited edition colored vinyl which includes signed and numbered posters with art by N8 Van Dyke of Heavy Metal Magazine and Nis Anthrope.

The Nerv has shared stages with D.R.I., D.O.A., Agent Orange, The Dickies, PHILM (Dave Lombardo of Slayer), The Freeze, Battalion of Saints, and The Tubes.




SexStar
Kristi Kremes - Guitar and Vocals
Jenni Coppertone - Bass
-from San Francisco, CA


-We believe that there will never be peace in the world or in the hearts of men. We encourage free thinking, seduction, and art...Viva la revolution!