Wednesday
January 24
2018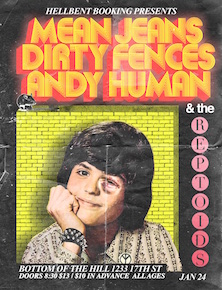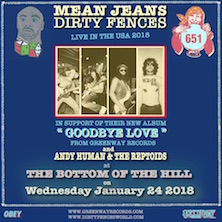 8:30PM

doors -- music at 9:00PM


••• ALL AGES




$

10

in advance

/ $13

at the door


Hellbent Booking

presents...


www.hellbentbooking.com/
Mean Jeans
www.facebook.com/themeanjeans/


Cool Punk / Dumb Punk




[co-headlining]


Dirty Fences
www.facebook.com/DIRTYFENCES/


Soul punk rock and roll




[co-headlining]


Andy Human & The Reptoids


www.facebook.com/reptoidrock/


rock
---

Mean Jeans
Billy Jeans: GTR/VOX
Jeans Wilder: DRUMS/VOX
Junior Jeans : BASS
-from Portland, OR


-Mean Jeans' album, Tight New Dimension, furthers the band's absurdist party-punk agenda. The music is tight, Ramones-influenced pop-punk with garage-rock attitude; the song titles are gloriously literal, positing such deep thoughts as "Michael Jackson Was Tight" (about the King Of Pop), "4 Coors Meal" (sure to be the new liquid diet craze) and "Are There Beers In Heaven?" (an existential question everyone will likely face at some point in their lives).






Dirty Fences


-from New York, NY


-New York City's favorite hard-working band.
Dirty Fences' fast, catchy, street-level, rock n roll will LIGHT THE FIRE OF YOUR DESIRE.





Andy Human & The Reptoids
Andy Human - voxxxals/guitar
The Reptoids:
Beast Man - bass, voxxx
Cripe Jergensen - pounding, ear-splitting, general destruction, anvil chorus, drums
-from Oakland, CA
-Andy Human & The Reptoids, Punk, Killed By collector Dorks, Rock n' Roll, Mutations, outer space, time travel, absurdist nihilism, the dark present.
Andy Human & The Reptoids are a band of cosmic assassins formed outta the muck by Andy Jordan (of The Cuts, The Time Flys, Buzzer, LENZ, The World).