Saturday
January 27
2018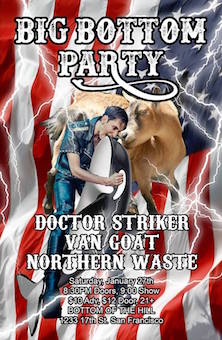 8:30PM

doors -- music at 9:00PM

•••

21 AND OVER




$

10

in advance

/ $12

at the door
Doctor Striker
doctorstriker.com/


Heavy Pop


Van Goat
www.vangoatband.com/


Swing / Punk / Surf


Northern Waste
www.northernwastemusic.com/


Rock



---

Doctor Striker
Paul Striker
Will Xiong
Guinevere Q
Young Sun
-from Oakland, CA
- Imagining a sonic world that diverged from our own in 1991, Doctor Striker shreds and roars over heavy beats, guitar riffs, bass lines, and synth hooks. He brings the classical and punk worlds together with training and discipline to electronic pop to create a political, personal and incisively optimistic brand of music.

Doctor Striker's lyrics, brutally simple in the punk tradition, are inspired by his upbringing in recession-battered metro Detroit and subsequent life in Oakland, California. His formal training in economics and history at the University of Michigan bring an uncommon depth and historical context. Doctor Striker exclaims: "If you fight the man, you are the man If I'm rich, no one can touch me. / If I'm rich, I am the law. / But I'm poor, I don't care. / I am poor, I am free."

Doctor Striker teamed up with Guinevere Q, Will Xiong, and Young Sun for the live shows to create a full sensory, theatrical live experience. He crawls across the floor shredding and chanting while Guinevere plays the bass and climbs tables. Will fills the sound with his tones and Young Sun drives the drums.

Doctor Striker is celebratory and critical, insightful but ecstatic. By committing to a pop ethos, he avoids joining the half-baked rocker-philosopher tradition. Indeed, if Doctor Striker believes in anything, it's in the eternal truth of heavy riffs. Though he's not shy about his vision of utopia:

"Going in to work / We party till it hurts / Sleeping at the desk. / Dream, Party, Rest." -




Van Goat
Aidan Ward: Lead Vocals / Guitar / Clarinet
Ben Einstein: Keyboards / Pineapples / Vocals
Derek Burle: Bass / Vocals
Lindsay Alexis: Trombone / Vocals
Taylor Moxon: Drums
-from Oakland, CA
-"Masterfully mixing Swing, Surf, Punk, and Pineapples into a magical Concoction." - I Heart SF Bands
Spectacularly catchy and exciting and addictive" - The Bay Bridged
"I'm just not that into it." - some hip music blogger
To smell Van Goat, simply find a Yellow Sharpie.

To see Van Goat, you must go to a live show. Their performances have been described as both 'pleasing' and 'nice'.

To touch Van Goat, you must pay an additional $5.

To taste Van Goat, you must go to Colonial Donuts after 2am and get a box of assorted donuts and donut holes. You must mix bites of donuts to get the full experience.

Van Goat takes the tradition of fun, fast, eclectic surf rock started by bands such as Agent Orange, The Pixies, and The Minutemen, mixed with their own brand of swing punk reminiscent of The Squirrel Nut Zippers. Fast, crass, and extremely catchy, Van Goat's music is defined by constant hooks and changes.






Northern Waste
Devin Walker - Lead Vox and Rhythm Guitar
Conrad Scheepers - Lead Guitar and Backing Vox
Jack Snyder - Drums
Paul Hanna - Bass and Backing Vox
-from San Francisco, CA


-Northern Waste plays an eclectic brand of high-energy rock drawing from a variety of influences, from hard rock to punk, blues to funk, and much more. Like lyrics that make you think? Want to sing at the top of your lungs? Want to dance with your friends all night? Come get Wasted!