Friday
February
2
2018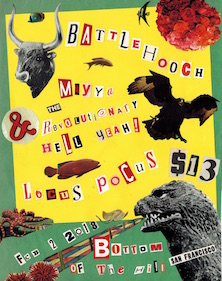 8:30PM

doors -- music at 9:00PM


••• ALL AGES




$

11

in advance

/ $13

at the door
Battlehooch
battlehooch.com/


Shapeshifting Orchestral Rock


Mayya & The Revolutionary Hell Yeah!
www.facebook.com/mayyamusic/


Indie rock


Locus Pocus
www.facebook.com/ocuspocussf/
Psych garage rock, indie pop



If you buy advance tickets, you will receive a copy of Battlehooch's brand new single the night of the show!
---

Battlehooch
AJ McKinley: Guitar
Ben Juodvalkis: Synth
Grant Goodrich: Bass
Pat Smith: The Voice
Ryan Huber: Drums
Tom Hurlbut: Winds
-from San Francisco, CA
-Battlehooch is the kind of band you thought went extinct along with landline phones and cassette tapes. In one sense they're a band from another, sturdier era: a band that releases consistently quality material on a consistent basis, a band that doesn't sacrifice creative drive for commercial interest, a band that grows and evolves with each successive release. From the beautiful madcap mess of debut LP Piecechow to the more refined yet still quite surrealistic jams on Hot Lungs to a cool, polished psych-rock sheen on 2014's Wink EP, Battlehooch has proven itself as a band built to last. They may possess an old-school mindset, but their music is diverse and daring enough to fit perfectly into this wild new century.

Formed in San Francisco – the birthplace of psychedelia – it's fitting that the six-piece collective echoes the city's tie-dyed past in its own compositions. However, the group isn't content with becoming a mere tribute to a time period they never lived through. Instead, Battlehooch updates the sound of psychedelia for a new generation, one that can now access dozens of genres and millions of songs with a few clicks of an iPhone. Battlehooch reflects this modern trend of manic music consumption: on any of their many releases, the listener will be treated to a sonic smorgasbord, bouncing from hard rock to dance-pop to mind-warping head trips to flirtations with electronica and jazz and Afrobeat and everything in between within the span of a few minutes, sometimes even seconds.




Mayya & The Revolutionary Hell Yeah!
Spencer Owings on lead guitar, Sam Jones on drums, Evan Anderson on bass, Alex Pollak- percussion/good vibes, n Mayya on lead vox/rhythm guitar
-from San Francisco, CA
-"Diminutive in stature, Gargantuan in spirit" -Mayya was born in Russia, grew up in the TL in SF. she is inspired by david bowie, gogol bordello, iggy pop, funk music, george harrison, pretty much anything w energy and good melodies... and anyone who is unapologetically themselves! She has a band called Mayya & The Revolutionary Hell Yeah! with the wonderful Spencer Owings on lead guitar, Timmy Stabler on bass, Sam Jones on drums, Alex Pollak on percussion/backup dancing/good vibes





Locus Pocus
Vocals- Nate Budroe
Guitar- Kyle Chapman
Bass- Daniel de Lorimier
Drums- Michael Kipnis
Organ & Rhodes- Daniel Markowitz
-from San Francisco, CA
-Locus Pocus is a newly emerging psych rock band bringing with them heavy fuzz riffs, dancey grooves, and hooks that you're guaranteed to sing in the shower for months on end. The band formed in the fall of 2016, with Kyle Chapman (guitar) and Daniel Markowitz (keys). They quickly added Michael Kipnis (drums) and Daniel de Lomier (bass) to complete the full instrumental lineup. The band played as an instrumental group until February 2017 with the addition of lead vocalist Nate Budroe. Mixing elements of groove based psychedelia, lo-fi garage rock, and jazz, the band has created its own unique ascetic which catches the ears of a variety of music fans.