Friday
February
9
2018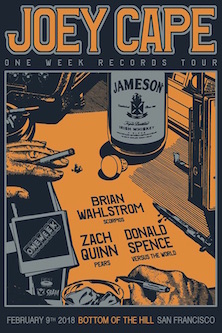 8:00PM

doors -- music at 8:30PM


••• ALL AGES




$

15




One Week Records Tour

, featuring...


Joey Cape


of

Lagwagon

and

Scorpios


www.oneweekrecords.com/


Pop punk


Brian Wahlstrom


of

Scorpios


www.facebook.com/brianwahlstrommusic/


Indie rock, Folk rock


Zach Quinn


of

PEARS


www.facebook.com/ZachQuinnOfficial/


Punk rock, Melodic hardcore


Donald Spence


of

Versus The World


www.facebook.com/DonaldSpenceMusic/


Post-hardcore, Pop punk



---

Joey Cape


of

Lagwagon

and

Scorpios




-from San Francisco, CA


A rock and roll renaissance man, Joey's a punk, an indie rocker, a troubadour and a shit-kicking cover artist all in one, and he's been doing it all since before most of us were even born. Prolific as ever, now Joey finds his voice in a steady stream of acoustic releases.

He has made many splits with other artist, most notably Tony Sly, Jon Snodgrass and Scorpios, a band featuring Joey, Tony, Jon and an Opera singer named Brian Wahlstrom on Keyboards.

"You definitely get a different insight into the songwriter on an acoustic recording…I think most people who enjoy what I have done appreciate those recordings and the depth in an acoustic setting."

One Week Records is a Digi-label. We release artist recording sessions as a complete event. The artist sleeps, eats and records 10 songs in 7 days.
The sessions are produced by Joey Cape at his home studio in San Francisco.





Brian Wahlstrom


of

Scorpios




-from Carlsbad, CA




-Wahlstrom is a Swedish name.






Zach Quinn


of

PEARS




-from New Orleans, LA




-"Collaborating with someone new can be a scary challenge, but when it's with Joey Cape, the fear subsides quickly. The concept of the one week record produces such great results largely because of the immense vision that Joey has for songs. He's seasoned and brilliant, and quite often saw through the fog when I couldn't. He knew how to help me make my ideas songs we would be stoked to listen to. Hang ups lyrical or musical, Joey knew how to cut through them. I've never had this much fun making a record. I'm stoked for people to hear it."






Donald Spence


of

Versus The World




-from Santa Barbara, CA




-Joey & I have been friends for a long time now. Being from the same town we've been running in the same circles for as long as I can remember. We've played shows and festivals and even toured together, as i have with many of the artists involved in One Week. All of that made for an incredible work climate where the exchange of ideas was more fun than work. Make no mistake, Joey puts you to work. The hours are long, the coffee is black and the eyes are bloodshot but now that I'm seeing it through the rear-view mirror it was one of the best expierences I've ever had making a record. I am happy and proud of the work we've done and I hope you all enjoy listening to it half as much as we enjoyed making it. Cheers.