Friday
February 16
2018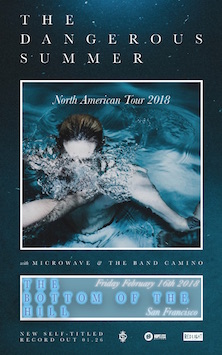 7:00PM

doors -- music at 8:00PM

•••

ALL AGES




$

15

in advance

/ $17

at the door
The Dangerous Summer
www.thedangeroussummer.us/


Pop Punk Emo


Microwave
www.mcrwv.com/


Post-hardcore, Emo, Alternative rock


The Band Camino
www.thebandcamino.com/
Alternative/Indie
---

The Dangerous Summer
AJ Perdomo
Matt Kennedy
Ben Cato
-from Ellicott City, MD
-A funny thing happened when The Dangerous Summer walked away in 2014: People kept listening.

In fact, the legend of the Ellicott City, Maryland-based band—signed by Hopeless Records during their senior year of high school in 2007—only grew larger in their absence. Fans inked vocalist/bassist AJ Perdomo's words on their skin. Bands cribbed their names from Dangerous Summer song titles. They never broke in the mainstream, but to a rabid underground audience, The Dangerous Summer were a phenomenon.

Now, newly reformed and reunited with Hopeless Records, the band—Perdomo, guitarist Matt Kennedy and drummer Ben Cato—are ready to begin their second chapter with the release of their fourth full-length album in 2018, produced by James Paul Wisner (Underoath, Dashboard Confessional, Paramore).

"In all of our minds, we thought this was never going to happen again," Perdomo says. "There was a point in my life where I thought I was never going to play another Dangerous Summer song again. But the easiest thing in the world is writing music and playing music together. It's second nature. It feels right again."

The band's forthcoming album, their first in four years, looks to build on an already accomplished discography. The Dangerous Summer's first three albums—2009's Reach For The Sun, 2011's War Paint and 2013's Golden Record—were more than just critically acclaimed: They were collections of visceral, textured alternative rock that shook audiences to their core with an unrivaled musical heft and lyrical honesty. They were songs that demanded your attention, as catchy as they were introspectively vulnerable.

"We're taking elements of what people always loved about the band and trying to push the limits and push things forward," Perdomo explains, noting that the band's new music is more uplifting and upbeat than the stark, bleak Golden Record, which came at a time of both personal and professional turmoil for the group. "On Reach For The Sun, we had a lot of inspiring songs," he says. "I feel like right now we need to pull out of this dark veil before we do anything else in our story. We're pulling out of the darkness, and it's really inspiring and uplifting."

So, as The Dangerous Summer approach the next stage of their career, they do so with an overwhelming optimism that's never been stronger. This isn't a rehash: It's a band acknowledging their past with eyes turned squarely toward the future. Most importantly, it's a reunion led by the music instead of the ancillary trappings of the industry. In their time away, Perdomo, Kennedy and Cato had plenty of time to figure out who and where they wanted to be, and they've all returned to the same place.

"No one owes us anything," says Perdomo, who became a father during the band's hiatus. "We have to prove ourselves again. We're giving our entire selves to this. We were always just grinding so hard because we needed to do it for a living, just trying to get by. We're not going to be grinding out 100-day tours; we conquered that. We finally got to the point where we don't need this—we want it." XX




Microwave
Nathan Hardy - Vocals, Guitar
Tyler Hill - Bass
Timothy (Tito) Pittard - Drums
-from Atlanta, GA


--Blending elements of hardcore, emo, and indie rock in a melodic cocktail unmatched by scene contemporaries, Atlanta four-piece Microwave balances frankness with a penchant for wit, allowing personal confessions to make a striking impact. Owning the best of the punk continuum, lead vocalist Nathan Hardy will sing, scream and yelp amidst snarling guitar work. While often tipping into the heavier side of resonant punk, the band shines brightest in soft reservation.






The Band Camino
Jeffery Jordan
Spencer Stewart
Graham Rowell
Andrew Isbell
-from Memphis, TN


-The Band CAMINO is a four piece alternative rock band from Memphis, Tennessee. Influenced by the soaring sounds of The 1975 and Kings of Leon, The Band CAMINO's music is equally anthemic and emotive. Their music truly captures the sound of youth while also tackling the complex emotions that come with it. They hope to bring the sound of Memphis into the 21st Century and inspire a new generation of young people to create.