Wednesday

February 21

2018




7:00PM

doors -- music at 8:00PM


•••

ALL AGES




$

12

in advance

/ $15

at the door




----on sale 12/1




Noise Pop Festival 2018

presents...


Ha Ha Tonka
www.hahatonkamusic.com/


Indie rock




[co-headlining]


Wildling
www.wildlingmusic.com/


Rock




[co-headlining]


TBA


...


TBA


...
---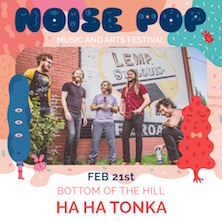 Ha Ha Tonka
Brett Anderson -guitar, mandolin and vocals
James Cleare - absolutely everything
Lucas Long - bass & vocals
Mike Reilly - drums & vocals
Brian Roberts - guitar & vocals
-from West Plains, MO
-Over their history, Ha Ha Tonka has recorded four critically acclaimed albums, toured the world, played Lollapalooza and Austin City Limits, and appeared on Anthony Bourdain's No Reservations. Through it all, these Ozarks natives have made friends, found love, started familes, and grown and matured together. Heart-Shaped Mountain is a reflection of that development and maturity. Once aptly summed as "Indie-Americana, where Alabama meets Arcade Fire, " Ha Ha Tonka has expanded their sonic palette, unveiling balanced, sublime, pop radio accessible heights and an emotionally broader, post-punk songwriting range, a la Apache Relay or a less enigmatic Jonsi, while keeping their trademark harmonizing vocals, jangly Southern revelry and crunchy hooks fully in tact. At it's core, Heart-Shaped Mountain is an album about love and growth. At a time when divisiveness fills the headlines, Ha Ha Tonka is fighting the good fight, building narrative-tributes to friends and loved ones, memories past and prospects of the future.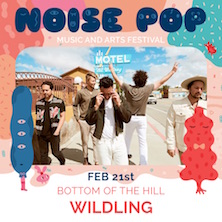 Wildling
Ryan Levine (lead vocals)
Justin Levine (bass)
Andrew Ampaya (keys / vocals)
Erik Janson (guitar / vocals)
Casey Brothers (drums)
-from Los Angeles, CA
-Wildling write the sort of melodic, heartfelt, indie rock n' roll that is sure to put them in class with the greats. From the huge, in-your-face chorus of "Hummingbird," to the softer river of sound found in "Change Your Mind," this California 3-piece deliver songs that make a very strong statement for an up and coming band. The band's members are no strangers to the music game. Singer, Ryan Levine, has been playing music with piano/keys player Andrew Ampaya for over 10 years. Though they've had a few different bands together, and one major record deal behind them, it is clear that Wildling is the project Ryan & Andrew are meant to be doing. With the addition of bassist Justin Levine, Ryan's brother, Wildling took shape and immediately headed into the studio. With traces of legends like Fleetwood Mac and Paul Simon, to current favorites such as The Black Keys and Young the Giant, it's easy to see why people are starting to talk about Wildling as a band to watch out for.








TBA


-




-






TBA


-




-