Thursday
February 22
2018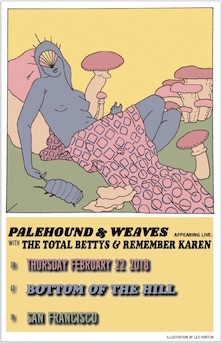 7:00PM

doors -- music at 8:00PM


•••

ALL AGES




$

14

in advance

/ $16

at the door


Noise Pop Festival 2018

presents...


Palehound
www.palehound.com/


Folkish rock




[co-headlining]


Weaves
www.weavesband.com/


Alt-indie pop




[co-headlining]


The Total Bettys
www.facebook.com/thetotalbettys/


pop punk


Remember Karen
www.facebook.com/rememberkarenband/


noise p

op punk


---

Palehound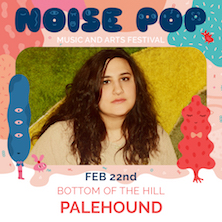 Ellen Kempner
Jesse Weiss
Larz Brogan
-from Boston, MA
-The sophomore album from Boston trio Palehound, A Place I'll Always Go, is a frank look at love and loss, cushioned by indelible hooks and gently propulsive, fuzzed-out rock.
Ellen Kempner, Palehound's vocalist, guitarist, and songwriter explains, "A lot of it is about loss and learning how to let yourself evolve past the pain and the weird guilt that comes along with grief."
Kempner's writing comes from upheavals she experienced in 2015 and 2016 that reframed her worldview. "I lost two people I was really close with," she recalls. "I lost my friend Lily. I lost my grandmother too, but you expect that at 22. When you lose a friend—a young friend—nothing can prepare you for that. A lot of the record is about going on with your life, while knowing that person is missing what's happening—they loved music and they're missing these great records that come out, and they're missing these shows that they would've wanted to go to. It just threw me for a loop to know that life is so fragile."
Palehound's first release for Polyvinyl is also about the light that gradually dawns after tragedy, with songs like the bass-heavy "Room" and the gentle dreamy album closer "At Night I'm Alright With You" feeling their way through blossoming love. "The album is also about learning how to find love, honestly, after loss," says Kempner.
Since forming in 2014, Palehound—Kempner, drummer Jesse Weiss (Spook The Herd), and new bassist Larz Brogan (a veteran of Boston DIY who, Kempner posits, "had 13 local bands last year")—have taken their plainspoken, technique-heavy indie rock from the basements of Boston to festivals around the world. A Place I'll Always Go was recorded in late 2016 at the Brooklyn complex Thump Studios with the assistance of Gabe Wax, who recorded Dry Food. "I would put my life in his hands," Kempner asserts. "I trust him so much."
A Place I'll Always Go builds on the promise of Palehound's critically acclaimed 2015 album Dry Food with songs that are slightly more reserved, but no less powerful. "Flowing Over" rides a sweetly hooky guitar line, with Kempner using the fuzzed-out upper register of her voice as a sort of anxious counterpoint to the riff's infectious melody. "That song is about anxiety," says Kempner, "and when you're sad and you listen to sad music to feed it and feel yourself spinning all these 'what if's and 'I'm terrible's in your head."
"This record represents a period of time in my life way more than anything I've ever written before," says Kempner, who notes that the swirling "If You Met Her" and the piano-tinged "At Night I'm Alright With You" could represent the opposing poles of the record. "One of them is about love, and the other one is about death—it was a really healthy experience for me to find my own dialogue within that," she says. "There's so much that you learn and read, and other people's experiences that you internalize, that you try to then base your own on. It was helpful to carve my own path for that."
Part of what makes A Place I'll Always Go so striking is the way it channels feelings of anxiety -- heart-racing moments both exhilarating and crushing -- into songs that feel well-worn and comforting.
The hushed confessionalism of "Carnations" and the fugue state described in the stripped-down "Feeling Fruit" are snapshots of moments marked by big, confusing feelings, but they're taken with compassion and honesty—two qualities that have defined Palehound's music from the beginning.





Weaves

Jasmyn Burke
Morgan Waters
Spencer Cole
Zach Bines
-from Toronto, Ontario Canada


-Delivering a clever and bracing brand of indie rock full of wit, energy, and arty left turns, Weaves were formed in Toronto, Ontario, Canada in 2013. Featuring Jasmyn Burke on lead vocals, Morgan Waters on guitar, Zach Bines on bass, and Spencer Cole on drums, Weaves began when Burke was playing a solo show in which she accompanied herself on guitar and a looping sampler, and Waters was in the audience. Waters liked what he heard, and the two were soon exchanging ideas about music. It wasn't long before they were sharing demos they'd worked up on Garageband and collaborating on fresh material. As Burke and Waters began accumulating songs, they brought Bines and Cole aboard so they could play out, and Weaves began making a name for themselves on the fertile Toronto indie music scene. They almost immediately began recording, releasing a digital single, "Hulahoop," at the end of April 2013. A second single, "Motorcycle," followed in July 2013, and a third, "Take a Dip," arrived in September 2013. The three singles were collected with three new songs for a six-song EP, simply titled Weaves, released in April 2014. In 2016, Weaves struck a deal with the Brooklyn-based independent label Kanine Records and the Canadian label Buzz Records, who jointly released the group's first full-length album, also titled Weaves. The group hit the road in support of the release, and their appearances at 2016's SXSW festival earned them plenty of positive press on both sides of the border, especially for Burke's dramatic performance style. In October 2017, the band released their highly anticipated sophomore outing, Wide Open. ~ Mark Deming








The Total Bettys

Maggie, Bri, Anthony, Chris
-from San Francisco, CA


-The Total Bettys are a pop punk band from San Francisco. Maggie, Bri, Anthony and Chris started writing together in 2015, and they instantly became best buds.. Their debut EP Connect with the Couch features fun, upbeat pop punk energy with witty, self-deprecating lyrics.






Remember Karen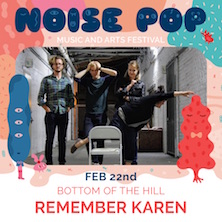 Erica Ann Watson - Bass, Vocals
Jessica Groopman - Drums
Logan Kelley - Guitar
Nick Thacker - Guitar, Vocals
-from Oakland, CA
-Remember Karen came together in the spring of 2015 in a weird practice space in South Berkeley. Jess, the drummer, has played in many bands covering many genres and is not afraid to take Remember Karen into the vortex from time to time. In addition, she is from Virginia, which is for lovers. Logan creates musical soundscapes with his axes, inspired by his days as a kid in the desert. He also is not afraid to take on any roof rats chewing up cables in your attic. Nick, who sings and plays guitar, recalls his reflection in the Puget Sound and closes his eyes and thinks of England to come up with the words for the music. Erica, the bassist, is the lone California-lifer and has never surfed or skateboarded. As the wise veteran of the group, she likes to keep the band honest. All together, Remember Karen tackles musical mountains, reads in between the lines, and appreciates a pop sensibility.

From The Deli Magazine:
The Oakland-based quartet specialize in melodic tracks that mystify with their cryptic, abstract lyrics ("your ghost always sits in a suburban chair / traces of the not-yet in a parking lot"), yet stay far, far away from the cringe-worthy realm of fake depth. The best part is, they don't take themselves too seriously, either. They aren't afraid of rhyming "modesto" with "unimpressed-o" in "Afternoon Waking Life"—a move made even more successful by the whirlwind chorus that follows it. Their music nods at the early work of indie rock legends Death Cab, working in a similar stripped-down style to their debut LP Something About Airplanes. However, that is not to say it is derivative. This is not a recreation of something that already exists, but rather, a revival—one that we're excited to see unfold.