Friday
February 23
2018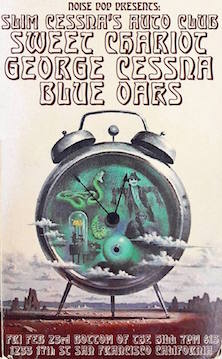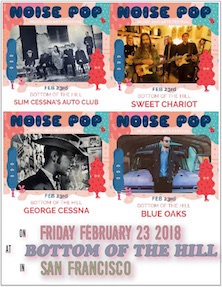 7:00PM

doors -- music at 8:00PM


•••

21 AND OVER




$

15




Noise Pop Festival 2018

presents...


Slim Cessna's Auto Club
scacunincorporated.com/


Gospel music \ americana \ experimental rock


Sweet Chariot
www.facebook.com/SweetChariotRides/


Rock 'N' Roll Americana


George Cessna
georgecessna.bandcamp.com/


country folk rock & roll western


Blue Oaks
www.blueoaksmusic.com/


Blues Folk Rock
---

Slim Cessna's Auto Club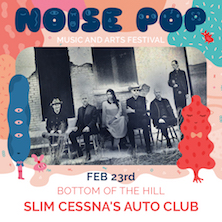 Slim Cessna, Munly Munly, Lord Dwight Pentacost, Rebecca Vera, Ian O'Dougherty, Andrew Warner
-from Denver, CO
-There comes a moment in every Slim Cessna's Auto Club show when you realize you're seeing something you'll never see anywhere else. It's Slim Cessna in a white cowboy hat and beard, the lights haloing his ungainly frame, horn-rimmed glasses flashing through the smoke. He's trading lyrics and insults with Munly Munly, gaunt and strange, dressed in a shade of black particular to preachers and burnt down barns. Their voices rise and converge in the kind of exquisite harmony usually found in Sacred Harp congregations, and then the band cuts loose, the best live band in the world, and the two men are doing battle, playing out some cathartic war between good and evil on stage. Or trading dance steps. You can't tell.

I said the best live band in the world, and I ain't the only one. No Depression and Spin Magazine have said the same. This is a band that's held its own onstage with everybody from Johnny Cash to the Dresden Dolls. But you listen to the recording of "That Fierce Cow is Common Sense in a Country Dress," and it'll take you just about four minutes before you realize you're listening to the best band in the world, period. It's Lord Dwight Pentacost leading the lunatic rapture on his Jesus and Mary double-necked guitar; Rebecca Vera playing pedal steel so sublimely that I swear to God you can see the ghost of Ralph Mooney circling the stage; and, holding down the rhythm section like they have with each other since seventh grade, The Peeler on drums and Danny Pants on the doghouse bass, driving the band, making you lose your damn mind.

They've been making music for over twenty years, and there is, quite simply, nothing else like it. It's gospel music, is what I've decided. Gospel music for a blasted world. A world straining and bursting in constant pain, but one that can't help but overspill with joy – even knowing better. And the songs, Jesus. Songs about Colorado Indian hater John Chivington, alien abductions, patricide, a man born without a spine. This is the wild, bloody and weird America of Harry Crews, the only America worth a damn. It's what Flannery O'Connor was trying to say when she wrote of dark romances and the grotesque. If you've got a heart, these songs'll break it, and if you've got any laughter left in you, they'll beat it out of you until you cry.

I probably can't improve on what Jello Biafra said about Slim Cessna's Auto Club, that they're "the country band that plays the bar at the end of the world." But I like to think that as long as they're around, they can still save us from that end. Or at least from what currently passes as country music.





Sweet Chariot
Eric Shea
Chris Guthridge
Doran Shelley
Chris Labreche
-from Oakland / San Francisco, CA
-Sweet Chariot is a San Francisco and Oakland based band with members who prefer old gear and cold beer. Their timeless rock 'n' roll is a blend of pickled pub rock and greasy biker boogie trimmed in the smoky tones of West Coast canyon-twang. Sweet Chariot comprises singer/guitarist Eric Shea (Hot Lunch, Mover) and Planes Of Satori drummer Chris Labreche – both dudes from the bygone band Parchman Farm. They also landed bass player Doran Shelley, a former member of The Cramps and Nik Turner's Hawkwind. Ride The Blinds' frontman Chris Guthridge completes the band with shared singing duties and top-shelf lead guitar playing.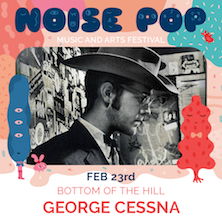 George Cessna


-Baltimore, MD




-George is the son of Slim Cessna (Slim Cessna's Auto Club on Jello Biafra's Alternative Tentacles label) and a former member of The Sterling Sisters as well as a current member of Snakes out of Baltimore.






Blue Oaks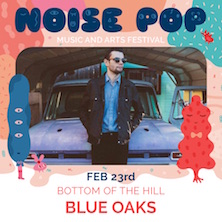 Brendan Stone - Vocal/Guitar
Cody Walker - Percussion/Soul
Seneca Barr - Keys/Guitar
-from Sacramento, CA
-Raised in Folsom, California. Brendan Stone began Blue Oaks in late 2007 as a way of putting his poetry and thought to sound. Performing live from the age of 15 in Northern California from open mic nights to house shows and small clubs. With hard hitting drummer Cody Walker joining his side in late 2012. Blue Oaks gained local acclaim and growing anticipation toward a debut release. Working with producer Jack Shirley (Deafheaven, Joyce Manor) Blue Oaks debut vinyl single "Hit By A Train From New York City Blues" was tracked to Analog Tape at The Atomic Garden Studio in Palo Alto, CA. The record was released on December 7th, 2013. Stone made a move to Austin, TX in 2014, then between California and Austin studio sessions for a debut full length album "To Be Kind is Sin" took place. Eventually leading to Gold Standard Studios and sessions with producer Matt McDermott. Now back to their roots in California wielding a full band lineup, Blue Oaks sound has evolved into a new realm of existence with a live show not to be missed and full length album "To Be Kind is Sin" out now mastered by Emily Lazar, Chris Allgood at The Lodge NYC (Brand New, The Shins, Foo Fighters, Morrissey). Listen to their new album on all major media platforms today and catch Blue Oaks on tour in late 2017-2018.