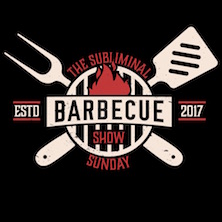 Sunday March
4
2018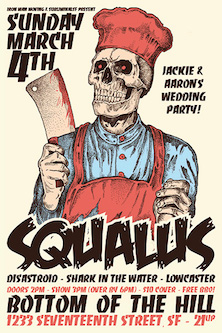 2:00PM

doors -- music at 3:00PM


••• 21 AND OVER




$

10




Iron Man Moving & Subliminal SF

presents...


The Subliminal Sunday BBQ show


Free BBQ food: Burgers, dogs, and more!


and also,

Jackie & Aaron's wedding party!


(Jackie from

Grayceon

& Aaron from

Giant Squid

/

Squalus

)
Squalus
www.facebook.com/squalus.band/


metal rock avant-garde


Disastroid
www.facebook.com/disastroid/


grunge stoner metal rock


Shark In The Water
www.facebook.com/sharkinthewatermusic/


Surf music, with teeth


Lowcaster
www.facebook.com/lowcastermusic


Rock / Metalagic



---

Squalus
Aaron John Gregory - bass, vocals.
Zack Farwell - drums. Peter Benchley - lyrics.
Andrew Southard - keys, samples
Bryan Beeson - bass
-from San Francisco, CA
-Northern California's, SQUALUS, is a gnashing, gnawing beast; an all consuming wave of dueling, distorted, down-tuned bass guitars, saturated synthesizers, creaking pianos, thrashing drums, and salty, apricot brandy soaked vocals.

Featuring four original members of renown progressive sludge rock band, GIANT SQUID.





Disastroid
Enver Koneya: Guitar/Vocals
Travis Williams: Bass
Braden McGaw: Drums
Robot : Horrible crying
-from San Francisco CA
-Disastroid is a heavy band from San Francisco.
Their sound is a genre-blending mix of sludge, grunge, metal, and stoner rock. (There's some weird math-y stuff in there sometimes, too, but just a little.)
In the last few years they've shared the stage with bands like Helmet, Fu Manchu, Oxbow, Coliseum, Black Cobra, Future of the Left, Bison BC, Church of Misery, Fatso Jetson, Yawning Man, and Eagles of Death Metal.






Shark In The Water
Jim Utterback (guitar)
Dale Conboy (drums)
Jerry Langhorst (bass)
-from Oakland, CA
-Something is lurking just off the coast, stalking you from the depths, spiraling closer. Bolting from the blue in a flash of riffs and aloha shirts, Shark in the Water is here with raw, pounding surf music played fast and low. Not just any surf music, surf music with teeth.

Prepare for a visceral auditory trip straight through the heart of the red triangle. Dragging you from your board, pulling you towards the murky depths of oceania, Shark in the Water hammers down with cranked up baritone guitars and a hard hitting rhythm section to churn out unmistakable surf grooves.






Lowcaster
Band Members
Jason Bridges - Guitar / Vocals,
Marc Brandi - Guitar / Vocals,
Dean LaVoie - Drums,
Blaine Tabor - Bass
-from San Francisco, CA


-Like an ancient old-growth redwood standing alone in a field of industrial decimation, Lowcaster is one of few heavy acts left towering in San Francisco's deforested music scene. From doom to thrash metal, from hardcore-punk to psyche, the deepest dirt crusted roots of Bay Area underground music have nourished their massive sound. After playing relentlessly through out the Bay Area in 2016, Lowcaster released their first full length record "The Vapor Sea" in February 2017.