Wednesday
March 7
2018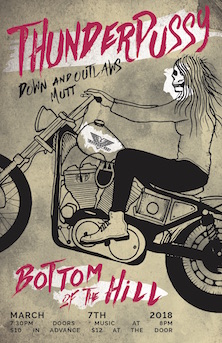 7:30PM

doors -- music at 8:00PM


••• ALL AGES




$

10

in advance

/ $12

at the door
Thunderpussy
www.thunderpussyusa.com/


Psychedelic Rock


Down & Outlaws
www.downandoutlaws.com/


psychedelic rock


MUTT
www.muttband.com/


blues rock garage grunge punk
---

Thunderpussy
Molly Sides - Vocals,
Whitney Petty - Guitar,
Leah Julius - Bass,
Ruby Dunphy - Drums
-from Seattle, WA
-What if Thor's Hammer of the Gods from "Immigrant Song" landed in the hands of four wise, willful, and wild women? Well, it would sound something like Thunderpussy.
The quartet—Molly Sides [vocals], Whitney Petty [guitar], Leah Julius [bass], and Ruby Dunphy [drums]—do the most rock 'n' roll thing possible and quite literally fuck up every rock 'n' roll stereotype you know to be true, piercing the halls of Valhalla in the process. Think of it like an inverse Frank Frazetta painting where it's the Amazonian siren wielding all of the world's power instead of Conan (he's on the sidelines in awe). More simply, instead of Page and Plant, Perry and Tyler, and Jagger and Richards, you get Molly and Whitney. Known for earth shattering pipes, heart-stopping performance art, and a propensity to literally writhe through a crowd, Molly is the consummate ideal front-person—bold, brilliant, brazen, and beautiful. At her righthand, you've got Whitney as the ultimate 21st century axe-slinger—cool, collected, and crazy on that fretboard. Rounding out the fray, Leah and Ruby cook up the tightest rhythm section this side of Cream (no kidding).
So, what is it that turned the Seattle-based group into a quiet phenomenon with the endorsement of Rolling Stone and Pearl Jam guitarist Mike McCready as well as a string of already legendary performances under their high-waisted belts (we're looking at you, Sasquatch)? It'd be too easy say it's the power of the P-----
Whitney steps in, "People talk about that magic. There's some voodoo happening between Molly and I, which is like a cosmic connection. She has this power. Somehow, I'm under her spell when we're performing—we all are."
"The truth is, I feel the same way about Whitney, Leah, and Ruby," smiles Molly. "We're all in this together."
That unity drives the band's forthcoming full-length debut Thunderpussy [Stardog Records/Republic Records] produced by Sylvia Massy. The lead single Speed Queen begins with a revving engine and arena-size percussion before snapping into a muscular and majestic riff and vocal proclamation, "Long live the Speed Queen."
"The 'Speed Queen' is this mythic and magical woman who rides a motorcycle and travels around the country," explains Whitney. "Nobody knows too much about where she came from or where she's going, but she changes everyone she meets because she's that powerful. I was thinking of Molly when I wrote it."
Its companion track "Badlands" evokes bluesy Zeppelin-style mysticism with a fury that certainly wouldn't be out of place on Aerosmith's Rocks—but is completely at home on Speed Queen.
"It nods to that classic Terrence Malick movie Badlands with Martin Sheen and Sissy Spacek," adds Molly. "It's an on-the-run love song between two outlaws."
Among its arsenal, Thunderpussy also boasts a song produced by McCready "Velvet Noose." Everything comes together into one cohesive and classic vision of rock music recharged, reinvigorated, and resurrected in what can only be described as a diamond in the muff: Thunderpussy.
"Being a lover of rock 'n' roll music for my whole life, you either have it, or you don't," Whitney leaves off. "If you find it, cultivate it, treat it like a wild animal, and tame that raw energy, but not too much. That's what this is."



Speed Queen by Thunderpussy on VEVO.



Down & Outlaws
Peter and Chris Danzig, Jon Carr, and Kyle Luck


-from San Francisco, CA


-In the year following Down and Outlaws' debut album release, the San Francisco quartet has played San Francisco's famed Outside Lands festival, shared bills with the likes of Meatbodies, Dead Meadow and members of Pavement, and honed their live shows with ever-increasing energy and power.

The quartet -- Peter and Chris Danzig, Jon Carr, and Kyle Luck -- have appeared on Last Call With Carson Daly and recorded in Vancouver for Converse Rubber Tracks. The D&O's music has also been featured in Oliver Stone's 'Snowden' and the Ubisoft game, 'Watch Dogs 2.'

With the release of the Bad Radio EP, the band has grown heavier, groovier, and tougher. Bad Radio brings a matured sound, from a band that's paid their dues and is hungry for more. Recorded in Joshua Tree, San Francisco, and Vancouver, Bad Radio is a 1-2-3 punch from a band that makes a ruckus with the reckless abandon of the Stooges, and the conviction of Black Rebel Motorcycle Club.

As a friend recently commented, "I've been trying to record your set for months, but you're too fuckin' loud!" This music is based on freedom and escape from everything else that drags you down, if only for 40 minutes.




MUTT
Lisa May Black - Vox/Guitar
Juli Sherry - Bass/Vox
Norm Maneri - Drums
Austin Dillon - Guitar
Jake Martin-Wagner - Keys/Vox
-from Oakland, CA


-Mutt blends riot grrrl, grunge, post-punk, avant-garde, and garage rock to create a dynamic, in-your-face sound with unexpected twists and turns. Formed in 2015, the Oakland based trio consists of singer/guitarist May Black, drummer Chris Maneri, and bassist Juli Sherry. Mutt came together with a common goal of creating a sound that completely deconstructs minimalistic songwriting while pushing and straining the limits and confines of each member's individual creative abilities. The result is a sound that is urgent, demanding, and menacing, with an underlying beauty that often abruptly pushes its graces through canvas of chaos the band has carefully curated. Mutt's writing process is rapid and collaborative and the sound is a direct reflection of its moniker; a noise breed from a vast variety of influences.