Thursday March 8
2018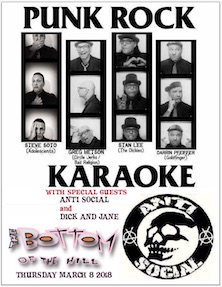 8:30PM

doors -- music at 9:00PM




••• ALL AGES




$

15


Punk Rock Karaoke


featuring band members from

NOFX

,

Bad Religion

,

Circle Jerks

,

The Dickies

,

Agent Orange

,

Sum 41

,

D.I.


www.originalpunkrockkaraoke.com/


Punk


Anti Social
dyingscene.com/bands/anti-social/


Punk


Dick And Jane
www.facebook.com/Dick-and-Jane-668992419829089/


Punk



---


Punk Rock Karaoke
Eric Melvin (NOFX): M.C. / Guitar
Greg Hetson (Bad Religion, Circle Jerks): Guitar
Stan Lee (The Dickies): Guitar
Edward Tater (D.I.): Bass
Steve Soto (Adolescents, Agent Orange, 22 Jacks): Bass
Darrin Pfeiffer (Goldfinger/Sum 41) Drums
YOU!: Vocals!
-from Los Angeles, CA
-The original deal since 1996. We play....YOU sing! Pick a song,we give you the lyrics.We call your name and voila! you are the singer in a punk rock band backed by the finest hand picked side men.

Simple...we have sign up sheet at venue. Pick your song,we give you lyrics.When your song is called,come up and join the band! No, we can't play every punk song from 1867 to present day. We hand pick our favorites from 1983 back to when dinosaurs pogoed along side with the punchers.





Anti Social


-from Los Angeles, CA




-Anti-Social started playing their brand of hardcore punk in 1986. Formed in Montebello Anti-Social was led by Charlie Cordova (bass & lead vocals)and Manny Cordova (guitar)with Gabriel Marquez on drums. With this three-piece line up the band started playing house parties as well as underground hall and warehouse shows around San Gabriel Valley and East L.A. In 1987 Gabriel Marquez decided to leave the band and word of this reach this up and coming drummer from the local scene named Armando Del Rio who joined the band after a few solid rehearsals. The line up went on to hit the punk scene throughout 1990 playing anywhere and everywhere they could with such acts like The Vandals, MDC, and even a little known band from Garden Grove called The Offspring. AAt this time the band had begun to record several demos that saw respectable sales at the bands shows as well as at several local independent record stores. Anti-Social has begun to garner a sizable following. In 1990 Del Rio left to pursue his ventures with some other projects. Manny and Charlie pushed forward with various other drummers for the next few years. Anti-Social continued to prove itself a force in the punk rock circuit until it's demise in 1994. 2004 had seen the return of Anti-Social with Manny, Charlie and Mando getting together for one off/reunion shows here and there with drummer Tim Baca filling the drum spot as well throughout the end of 2006. In 2007 the line-up of Manny and Charles Cordova and Tim Baca reunited to pick up where it had left off decades before playing several great shows and garnering great revues in local rags. The boys have since been giving stellar performances and have recorded a handful of old and new songs that can be heard in the bands live set. The material has been getting great responses and the band has made many new friends as they rip up the punk scene once again. The band has even begun to have a new recording of an old tune "Darkness in the World", get regular spins on KROQ's locals only specialty show. Not a bad way to get the ball rolling wouldn't you say? More recently the band's shows have continued the tradition of Anti-Social teaming up with such great acts as The Varukers, The Lurkers (U.K), old school acts like The Nip Drivers and Jody Fosters Army, and more modern acts like The Voids, just to name a few. The band has begun work on a new full length disc that will include both old and new material. They hope to have a completed product very soon and hopefully team up with a label that will back their brand of blistering, shut up and dance, punk rock. In the mean time, do yourself the favor and catch Anti-Social the next time they are in your town. You will not be dissapointed.






Dick And Jane
Linda XYZ: Lyrics and vocals.
Dave Dalton: Dobro and acoustic/electric guitars, vocals and smiles. (DieLaughingRecords.com)
Marco Zermeno: Bass and mystery.
Greg Langston: drum beats that get us moving!
-from the Bay Area, CA


-Dave Dalton, Marco Zermeno, Greg Langston and Linda XYZ are DICK and JANE. We started this lil' band back in November, 1988, with two electric guitars, a drum machine and Roger Migdow. We got to play with some great bands like GREEN DAY, THE DWARVES, the MELVINS, THE MENTORS, NO ALTERNATIVE, NO USE FOR A NAME and the late, great JOHNNY THUNDERS...hey Jane, see Spot run? Our original line-up broke up in 1991 or '92 ... and since August, 2013 we've been up and running, playing shows and adding members: you can't get rid of us!